Freeh Report ignores the obvious question:

What about Tom Corbett?

Freeh's report is a disservice to the people of Pennsylvania
The most troubling question of all remains:
Are state officials, and not children, protected in Pennsylvania?
Former FBI Director Louis Freeh's report on child abuse at Penn State deliberately conceals the inactions and misbehaviors of state and local law enforcement officials -- including Pennsylvania Gov. Tom Corbett -- in the same long-running scandal.
The report as such is a disservice to the people of Pennsylvania.
It serves as a not-too-clever political whitewash and diversion for prominent Pennsylvania politicians, including Corbett, implicated in the same misdeeds.
Freeh's report makes clear its limited scope in its title: "Report of the Special Investigative Counsel Regarding the Actions of The Pennsylvania State University Related to the Child Sexual Abuse Committed by Gerald A. Sandusky."
No mention is made in the title, nor in the report itself, of the years of inaction in this case involving the Pennsylvania Attorney General's Office and the office of the Centre County District Attorney.
"Our most saddening and sobering finding is the total disregard for the safety and welfare of Sandusky's child victims," Freeh said of his deliberately limited report. "The most powerful men at Penn State failed to take any steps for 14 years to protect the children who Sandusky victimized."
What Freeh does not mention is that the most powerful men in Pennsylvania politics also took no steps to help those kids.
Pennsylvania Attorney General-cum-Governor Tom Corbett for more than three years -- from at least 2009 to 2011 -- did little or nothing to protect Sandusky's young victims.
He did manage, as governor, to continue to dole out money to the Second Mile charity, even as he sat silently on the university board of trustees. At what point did Corbett have an informed obligation not to take the money? What about his obligation to inform his fellow trustees of his double- (or is it triple-) dealing game? Does he really wonder why people don't trust him now?
Centre County District Attorney Michael Madeira got the Sandusky case in 2008. Madeira also did nothing to bring charges for a year until he referred the case in March 2009 to Corbett.
The ignored case sat in Corbett's office until 2011, while Corbett ran for governor, and while he took six-figure political contributions from (and later enabled) Sandusky's Second Mile Charity.
We should mention that Centre County DA Ray Gricar as well refused to prosecute Sandusky in 1998. When DA Gricar vanished mysteriously in 2005, AG Tom Corbett strangely also refused to launch a serious investigation into that troubling development.
Corbett, as mentioned, is a high-ranking and trusted member of the Penn State Board of Trustees. It's inexcusable that he was excluded from Freeh's supposedly thorough investigation.
By hermetically sealing the perimeters of his investigation at the doors of Penn State, and refusing to ask the hard questions involving Gov. Corbett and other public officials beyond the gates of Old Main, former Director Freeh, himself a longtime political appointee, has raised more questions than he answers.
Why did Tom Corbett do nothing for three years? Why is Coach Paterno held to a different or higher standard than Governor Corbett?
The most troubling question of all remains: Are state officials, and not children, protected in Pennsylvania?
-- Bill Keisling IV
Posted July 12, 2012
Related:

Timeline: An insider's timeline of the Sandusky/PSU/Corbett scandal
'JoePA' takes the fall: A slow Tom Corbett throws Joe Paterno under the bus
The Magic Moment: Six decades of Pennsylvania governors, AGs, and the Pennsylvania Republican Party - Part 1 1950 to 1980
The Magic Moment Part 2: The Elected Years 1980 to 1995

PA Attorney General Tom Corbett was obstacle preventing 'VIP' sex ring investigation
Pennsylvania DA Tom Kearney asks FBI to investigate Corbett security contractor
Video: York lawyer Larry Heim boasts of courthouse pedophile ring
Jerry Sandusky Grand Jury report
Sandusky discovery motion filed 2-6-12 pdf >
Another drug prosecutor vanishes on a Pennsylvania car ride
Authorities say they're not serious about investigating the
disappearance of DA Ray Gricar
Pennsylvania DAs plan meeting to discuss Gricar, Luna disappearances
DA Ray Gricar's laptop is found in area previously extensively searched
Police: Gricar's hard drive found
Bubba Takes the Fall: Missing county sofa found in DA's basement
York County has long history of harming kids
Depostion of Det. Jeffrey Martz
Pennsylvania State Police launch investigation into PA Turnpike security provider
PA Turnpike security contractor seeks federal injunction to ban Luna book
Wantz dropped from PA House hearing on private investigators
External links:
Penn State source says no indication dismissal was related to steroids >
Video: Nike's Phil Knight pays tribute to Joe Paterno January 26, 2012 >
Sex bust nabs state security contractor -- ABC News
Want to know more? Read these Yardbird bestsellers about Pennsylvania attorneys general:
The Sins of Our Fathers: Moments before shooting himself to death at a news comference, Pennsylvania Treasurer R. Budd Dwyer implicated the PA attorney general in a deadly bribery conspiracy. Two young writers investigate, and find dark secrets about their hometown. Read more >
The Sins of Our Fathers now available in Kindle ebook edition!
Buy now Kindle >
Or buy The Sins of Our Fathers paperback edition now!
Revised Second Edition
with a new afterword
169 pages, perfect bound
Just $15
---
The Midnight Ride of Jonathan Luna: A year and a half before the disappearance of Pennsylvania DA Ray Gricar, Baltimore federal drug prosecutor Jonathan Luna mysteriously vanished from his office in downtown Baltimore, turning up dead in a stream in Lancaster, PA, stabbed dozens of times... Is it just us, or does it seem like lots of prosecutors are going missing in Pennsylvania? Read more >

or Order from Amazon.com here >>
Buy now Kindle >
Buy now iPad >
Also on the Nook >
---
We All Fall Down A Chronicle of an Impeachment Foretold: "In We All Fall Down, writer William Keisling tells the story of the impeachment of Pennsylvania state Supreme Court Justice Rolf Larsen, a once-popular Pittsburgh jurist. Larsen is prosecuted by corrupt Pennsylvania Attorney General Ernie Preate, shortly before AG Preate's own conviction on federal mail fraud and corruption charges. Keisling's account suggests that Larsen's impeachment was a blemish on democracy that should concern all Americans. Keisling describes the breakdown of nearly every democratic institution in the state that cradled American democracy."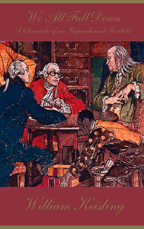 Cloth cover, Smyth bound, 336 pages.
$24.00
---
Copyright © 2012 yardbrd books
info@yardbird.com
blog comments powered by