Busted: Behind the Sandusky arrest

Narcotics agent nabs Jerry Sandusky
'Tom didn't want to do it'
Steroids?
Pennsylvania Attorney General Tom Corbett made it clear to his staff that he did not want to pursue the pedophile case against former Penn State football coach Jerry Sandusky, associates of Corbett's say. At the time, AG Corbett was running for governor of Pennsylvania.
The case finally was investigated in depth, and brought to court, only after Corbett's election as governor in November 2010.
An attorney general's office narcotics agent would come to play a central role in the Sandusky case. How and why a narcotics agent became involved in Sandusky's case is an enduring mystery.
AG Kathleen Kane's report on the Sandusky investigation, released June 23, 2014



Tom and Jerry's Ballot Box: Put in a vote for Tom, and out jumps a surprise (top)
Centre County (PA) District Attorney Michael Madeira referred the Sandusky pedophile investigation to Attorney General Tom Corbett in March 2009. DA Madeira cited a personal conflict of interest between himself and Sandusky.
AG Corbett told key members of his staff that he did not want to actively pursue the Sandusky case
"Tom didn't want to do it," one Corbett associate explains.
The case, per standard procedure, was assigned to a state trooper (actually four, one after another), and a prosecutor. Nevertheless, without Corbett's approval, and without the active shepherding of the attorney general, the investigation went nowhere.


The mystery of the narc in the pedophile case: steroids?
Sometime in 2009 (the exact date is still disputed), Narcotics Agent Anthony Sassano, of the state Attorney General's Office Bureau of Narcotics Investigation and Drug Control, came to work on the Sandusky case.
Several conflicting explanations have been offered about the origins of narcotics agent Sassano's involvement in the case.
In the book Silent No More, psychologist Mike Gillum relates that Sassano didn't show up on the case until June 22, 2009 (see An Insider's Timeline of the Corbett / Sandusky / PSU Scandal). Gillum writes that he first reported the case to the Pennsylvania State Police some seven moths earlier, around Thanksgiving 2008.
Gillum writes that, in June 2009, a state trooper assigned to the case, under the direction of AG Corbett's office, asked to perform a wiretap with Gillum's patient, victim Aaron Fisher. The plan was to put a tap on Aaron's phone, and have the boy call Sandusky to see if the coach would admit to his crimes.
Gillum writes that he told the trooper this was a bad idea since Aaron was far too fragile to do this sort of heavy-duty police work.
Nevertheless, behind Gillum's back, the trooper gained permission from the boy's mom to perform a wiretap. (Gillum writes that he was "stunned" that law enforcement and the AG's office ignored his professional advice.)
On the day of the wiretapping, June 22, 2009, Gillum writes, he just so happened to phone Aaron's mom. The boy's mom told Gillum that she couldn't talk, as an agent from the attorney general's office, Anthony "Tony" Sassano, was in her home with a wiretap team to perform the ill-advised wiretap.
Sassano, the trooper, and their higher-ups in the AG's office, however, bungled the wiretap attempt.
With the wiretap equipment hooked up, Aaron called Sandusky and asked the coach to "apologize."
"Well, we can't talk about that stuff now," Gillum reports Sandusky told the anguished boy and the recording equipment.
The bungled call lasted no more than a minute, Gillum writes.
But why did narcotics officer Sassano come to be assigned to the case?

Narcotics Agent Sassano's then-supervisor, Randy Feathers, told the Altoona Mirror in June 2012, "During the 'Bonusgate' investigation, we had a shortage of investigators in Harrisburg."
Yet, contradicting himself in a November 1, 2012 Harrisburg Patriot-News interview, Feathers would say, "I was asked weekly if I had enough personnel.... I never asked for help until 2011 when we had many more subpoenas and more evidence. Then I got eight more troopers and four more agents."
Sassano himself didn't shed much light on his mysterious role in the case when he testified at Sandusky's trial on June 14, 2012. Parts of Sassano's court testimony appear to be at odds with Gillum's account in Silent No More.
"Did there come a time in your employment with the Office of Attorney General that you were assigned to this matter?" Sassano is asked on the witness stand.
"Yes," Sassano answers.
"Do you remember exactly -- do you remember approximately when that was?"
Sassano answers, "April, May of 2009, somewhere in that area. I think May."

(Gillum writes that Sassano didn't show up on Aaron's case until the day of the wiretap on June 22, 2009.)


PACE system
But how exactly did the narcotics agent come to be involved in the Sandusky pedophile case?
One explanation we've heard is as follows:
At the time the pedophile case was first received by the AG's office in 2008 or 2009, particulars of the case were, by routine procedure, entered into the Office of Attorney General's PACE computer system database. PACE is an acronym for Police Automated Computer Entry.
The PACE system is a computerized indexing and intelligence system. It allows law enforcement personnel to discover if a potential target is under investigation by other law enforcement officers or agencies.
Sassano was involved in a separate investigation involving, among other allegations, the use of controlled substances / steroids in the State College area, we were told.
Steroids are used by athletes to enhance performance. Agent Sassano, among other official duties, has served as the Blair County Drug Task Force coordinator.
At the start of Agent Sassano's investigation, the narcotics agent conducted what's called a "toll search." A toll search involves the search of phone calls made by criminal suspects.
In the standard course of such an investigation, a narcotics agent such as Sassano must file an affidavit of probable cause with a court to receive the suspects' phone records. The object is to discover the parties who are talking to an alleged drug distributor or user, the frequency and duration of the calls, who is talking to whom, and so forth.
Following standard procedure, Agent Sassano would then enter information about those involved in his narcotics investigation into the PACE cross-indexing and intelligence system.
Agent Sassano is said to have gotten a hit on Sandusky and discovered that the former football coach was also under investigation for a pedophile complaint by Corbett's heretofore-inactive state trooper(s), and prosecutor.
Narcotics agent brings renewed life to pedophile case
Pedophile cases, such as the Sandusky case, for diverse social or political reasons, can languish for years, experts say. Not so narcotics cases.



---

'Narcotics Agent Sassano's investigation concerned the use of steroids in the State College area, we've been told'

---
The grand jury presentment that netted Sandusky states, on page 5, without elaboration:
"Office of Attorney General Narcotics Agent Anthony Sassano testified concerning phone records that establish 61 phone calls from Sandusky's home phone to Victim 1's home phone between January 2008 and July 2009. In that same time, there were 57 calls from Sandusky's cell phone to Victim 1's home phone. There were four calls made from Victim 1's home phone to Sandusky's cell phone and one call from Victim 1's mother's cell phone to Sandusky's cell phone. There were no calls made to Sandusky's home phone by Victim 1 during that time period."
Narcotics Agent Sassano personally testified at the preliminary hearing against Penn State officials Tim Curley and Gary Schultz on December 16, 2011. Agent Sassano was asked only about when, and what, he learned of the 2002 shower room incident involving Sandusky.
"When did you learn about the incident?" a defense attorney asks agent Sassano.
"I believe it was November 2010," Sassano answers.
Sassano nevertheless was not asked at the hearing the key questions of how, and why, he came to be involved in the Sandusky investigation.
What exactly did the malapropos narcotics agent do in the case for the next year and a half? Not much.
At Sandusky's trial, Agent Sassano is asked, "Now, can you tell us, after it went into the grand jury, whether or not a lead or a discovery led you and other investigators to Mr. McQueary?"
McQueary was the Penn State assistant coach whose eyewitness testimony was ignored by everyone in this scandal for almost ten years.
"Yes, there was something that broke that led us to Mr. McQueary," Sassano testifies. "An anonymous e-mail was sent to Centre County District Attorney Stacy Parks Miller. She forwarded that to the trooper I was working with at the time, Scott Rossman, and he forwarded it to me. And essentially that e-mail indicated from an anonymous individual that -- reference to the Sandusky investigation -- we needed to speak to Mike McQueary, that he had some information."
"And did that subsequently occur?"
"It did," Sassano testified.
But Sassano doesn't bother to mention that he and Trooper Rossman didn't interview McQueary until November 2010, a year and a half after he was supposedly hard on the case, and several weeks after his boss, Attorney General Corbett, was elected governor.
(McQueary, on the stand, testified he was first interviewed by Sassano and Rossman on November 22 and 23, 2010.)


Controlled substances firewall:
AG's Office Bureau of Narcotics Investigation and Drug Control
A Police Criminal Complaint filed against Sandusky on December 7, 2011, lists the three individuals who ultimately brought the charges against the former football coach and founder of the Second Mile charity.
The first listed in the complaint is Jonelle H. Eshbach, a Deputy Attorney General in the state AG's office. Eshbach was the prosecutor.
The second name listed in the criminal complaint is Pennsylvania State Police Trooper Robert Yakicic (he was one of many troopers ultimately involved).
The third name listed on the criminal complaint is AG's office Bureau of Narcotics Investigation and Drug Control Agent Anthony Sassano. Sassano is a long-time narcotics agent in the AG's office.
The Attorney General's Bureau of Narcotics Investigation and Control evolved from the Controlled Substance, Drug, Device and Cosmetic Act of 1972, passed by the Pennsylvania legislature in that year.
In the act was a Schedule of Controlled Substances, including anabolic steroids.
The administration and enforcement of the act was originally assigned to the state Department of Health. But a reorganization plan adopted in 1973 transferred the enforcement powers and duties to the Department of Justice and the state attorney general.
Working under the attorney general to enforce these controlled substances are the agents, like Sassano, in the Bureau of Narcotics Investigation and Drug Control.
A narcotics agent like Sassano is empowered by, and gets his law enforcement authority from, the Commonwealth Drug Device Safety and Cosmetic Act of 1972. Enforcing the drug law is what Sassano is paid to do.
Diverse internal rules and labor agreements in the AG's office prohibit a narcotics agent from participating in investigations unrelated to narcotics conducted by the AG office's other bureaus, such as the criminal investigations conducted by the Bureau of Criminal Investigations (BCI), or the Child Predator Unit.
There is a firewall between these divisions and, usually, the twain never meets.
"Years back there was a big blow up about using BCI guys to do drug work, and drug agents doing BCI work," one observer explains.
The full story behind Sassano's investigation won't be known until, and unless, Sassano's affidavit of probable cause is ever unsealed.
What is known is that Agent Sassano's narcotics division normally investigates the distribution of controlled substances. The full involvement of Sandusky, Second Mile, and Penn State's football program in the investigation is as yet unknown.
-- Bill Keisling IV
Posted January 11, 2012
revised January 24, 2013, January 22, 2014
This is the first of a planned three-part essay.
Read Part 2. 'JoePa' takes the fall: A slow Tom Corbett throws Joe Paterno under the bus >
Read Part 3. The Magic Moment: Six decades of Pennsylvania governors, AGs, and the Pennsylvania Republican Party - Part 1 1950 to 1980
Want to know more? Read these Yardbird bestsellers about Pennsylvania attorneys general:
The Sins of Our Fathers: Moments before shooting himself to death at a news comference, Pennsylvania Treasurer R. Budd Dwyer implicated the PA attorney general in a deadly bribery conspiracy. Two young writers investigate, and find dark secrets about their hometown. Read more >
The Sins of Our Fathers now available in Kindle ebook edition!
Buy now Kindle >
Or buy The Sins of Our Fathers paperback edition now!
Revised Second Edition
with a new afterword

Revised Second Edition
with a new afterword
169 pages, perfect bound
Just $15
---
The Midnight Ride of Jonathan Luna: A year and a half before the disappearance of Pennsylvania DA Ray Gricar, Baltimore federal drug prosecutor Jonathan Luna mysteriously vanished from his office in downtown Baltimore, turning up dead in a stream in Lancaster, PA, stabbed dozens of times... Is it just us, or does it seem like lots of prosecutors are going missing in Pennsylvania? Read more >

or Order from Amazon.com here >>
Buy now Kindle >
Buy now iPad >
Also on the Nook >
---
We All Fall Down A Chronicle of an Impeachment Foretold: "In We All Fall Down, writer William Keisling tells the story of the impeachment of Pennsylvania state Supreme Court Justice Rolf Larsen, a once-popular Pittsburgh jurist. Larsen is prosecuted by corrupt Pennsylvania Attorney General Ernie Preate, shortly before AG Preate's own conviction on federal mail fraud and corruption charges. Keisling's account suggests that Larsen's impeachment was a blemish on democracy that should concern all Americans. Keisling describes the breakdown of nearly every democratic institution in the state that cradled American democracy."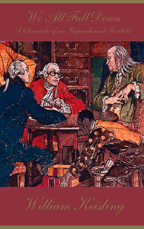 Cloth cover, Smyth bound, 336 pages.
$24.00
---
Copyright © 2012 yardbrd books
info@yardbird.com
blog comments powered by