Pennsylvania child welfare agencies supply kids to Jerry Sandusky
Editor's note: Afterwards many close to former Penn State football coach Jerry Sandusky would say they'd seen no "red flags" to indicate that he was sexually abusing an unknown number of Second Mile kids under his care and keep.
In reality, there were many red flags those in positions of responsibility simply chose to ignore, or cover up.
Sandusky for decades used Second Mile programs and Penn State University facilities to help lure, select, and molest his young victims.
Among those who supplied his victims were Pennsylvania child welfare agencies: the Pennsylvania Department of Public Welfare, and Centre County Children and Youth.
In these narratives, Sandusky's victims tells their own stories, in their own words.


Matt, like the other victims, met Jerry Sandusky through the Second Mile.
In his book Touched, Sandusky writes that Matt was seven or eight when he started with the Second Mile. Matt, Sandusky wrote, "became an instant challenge for me."
Matt told police that Sandusky began molesting him when he was eight years old, in 1986.
Matt would be molested in the showers at Penn State, and in Sandusky's home, while wrestling, and in bed.
"With like the showering, with the hugging, with the rubbing, with the just talking to me. The way he spoke. And just, the whole interaction with him alone. Anything, anytime we were alone just those interactions," Matt recalls.
Sandusky would begin by "blowing raspberries" on Matt's stomach, and then move his hand down to the boy's genitals.
"If you were pretending you were asleep and you were touched or rubbed in some way, you could just act like you were rolling over in your sleep so you could change positions," Matt recounts.
Young Matt would hide behind a bedroom door when Sandusky arrived to pick him up, his birth mother would say. He would beg his mother to tell Sandusky he wasn't home.
Matt's mother, Debra Long, says she finally tired of Sandusky's controlling behavior. In the fall of 1994 she tried to stop Sandusky's visits with her son. But Sandusky kept taking Matt out of school, without her knowledge or consent.
In December 1994 Matt set a fire to a barn. He was remanded to a juvenile detention facility, and probation. On January 6, 1995 officials placed Matt in foster care -- with the Sandusky. Once under their foster care, Jerry and Dottie Sandusky would try to isolate Matt from his birth mother, Long says.
Matt's mom tried unsuccessfully to fight the foster home placement with the Sanduskys.
"Jerry told Matt that he had a judge ready to sign the order and nobody could stop it," Long told the Associated Press in December 2011. "He told Matt before we ever went to court that I wouldn't win against him. Matt came right to me and told me, he said, 'Mom, Jerry said you wouldn't win against him.'"
Matt's mother at first was limited to spending a half-day a month with her victimized son. Her lawyer repeatedly, but unsuccessfully, petitioned the court for greater access to her child. But now Matt was almost completely under Jerry Sandusky's control.
One night Matt tried running away to his paternal grandparents' house. Sandusky drove over to the grandparents' home and confronted Matt's grandfather, Harold Heichel, who hid the boy.



Centre County Courthouse in Bellefonte, PA, where Matt's mom tried unsuccessfully to fight the boy's placement with Sandusky

---
In March 1996 Matt and his girlfriend -- who was also staying at the Sanduskys' house of horrors -- fled to a motel and tried to commit suicide by eating 80 to 100 aspirin tablets.
"I know that I really wanted to die at that point in time," Matt says.
After the attempted suicide, Matt's probation officer wrote, "The probation department has some serious concerns about the juvenile's safety and his current progress in placement with the Sandusky family."
Nonetheless, state child welfare and probation officials recommended that Matt stay with the Sanduskys, and the county judge in the case agreed.
When he turned 18, the Sanduskys would legally adopt Matt.
By this time, in 1996, Matt came to believe that he was being spared from Sandusky's molestations because the coach was "transitioning" to other young victims.
Dustin, from Milesburg, Pennsylvania, was born in October 1984.
He says, "I had some problems in school and The Second Mile was (geared) more towards troubled kids and to kind of get them to do more team-based things and, you know, just get you to be a little bit more social. I was ... actually was told by my (elementary school) guidance counselor to go into the program in about '95."
At age 11 Dustin was enrolled at a Second Mile camp at Penn State University in State College. The camp was held over the summer. Dustin, like the other Second Mile campers, was given a room in a dorm on the university campus.
There Dustin met Jerry Sandusky.



Penn State natatorium, where Dustin met Sandsuky during a Second Mile camp


---
"I met him at the natatorium, which we were all taken to during one of the summer camps, and we were all kind of just playing around at the pool," Dustin recalls. "And I just remembered getting out of the pool, being approached by Mr. Sandusky, and him asking me if I was interested in going to Penn State games, if I liked Penn State, things like that. And I said yes.
"I think I was a little bit too young to be, you know, a real big fan but I thought it was pretty cool.
"Well, (Sandusky) actually had called my mother and talked to her, asked her permission to come pick me up. And then at that point started picking me up, and I would stay at his house. Generally it was Friday nights going into Saturday.
"And then when I would stay at his house, some of the things that would happen, we would pull in the driveway and he had this habit of putting his right hand on my left leg and squeezing. He would squeeze around my knee cap and sometimes would squeeze to the point where I would just about cry out in pain. It hurt.
"And then eventually (Sandusky) would start to work his hand up my leg. If I was wearing shorts, his hand would actually go inside my shorts toward my groin area, and there was actually a time when I was wearing pants and I was wearing a belt and his hand actually went inside the pants and the belts and touched my penis. ... I remember him putting his hand up my shorts several times.
"I think I would cry out. But my primary reaction was since I was in the passenger's seat, I would try to scoot as far over to the right as I could. I didn't want to upset Mr. Sandusky in any way. So I just kind of tried to do my best to get away and to not make him angry, I guess."
Like many of Sandusky's victims, Dustin liked to go to the Penn State football games. And he enjoyed hanging out at the gleaming Penn State campus. He feared that if he protested too much to Sandusky about the touching, he would miss out on the football games and other things.
In this way, Penn State football, and Second Mile activities on the PSU campus, became important tools for Sandusky's seductions.
"My home life at that time, we didn't go out and do a whole lot," Dustin explains. "On the weekends we would go on family gatherings on Sunday and that was about it. I didn't really get to go out and do a whole lot. I wasn't exposed to a whole lot. So going to games was very, very special to me."
Dustin tried to minimize the abuse by staying out of Sandusky's reach. In this period, 1995, he says he soon learned that Sandusky, while driving his car, would put his hand on whichever child was beside him in the car.



---

'I just remember trying to scoot over as far as I could... I started to try to get into the back of the vehicle as far as I could so that it wouldn't be me.'

---
"I just remember trying to scoot over as far as I could," Dustin explains. "But also it would occur when there were other kids in the car, too. It was pretty much seemed, like, whoever was in the passenger's seat or in the middle seat behind him. So once we were, you know, in groups, went to games and things, I started to try to get into the back of the vehicle as far as I could so that it wouldn't be me."
From this we learn, as far back as 1995, Sandusky already had many other, yet still-unknown, victims. By this time thousands of kids had been involved in Second Mile programs at the Penn State campus, and other locations.
Sandusky as far back as 1995 would take Dustin to the Sandusky's State College home, where the boy would spend nights and weekends.
Sometimes, when they were alone at Sandusky's house, Sandusky would attempt to wrestle Dustin in the basement.
"And that would only occur if I was the last person to be taken home. Say it was an afternoon game, Saturday nights we would all stay -- we would all stay after and eat, kind of hang out. And then Jerry would sometimes take us home one by one, sometimes small groups. It varied a lot.
"But there was a couple times I was the last one there, and he would just kind of wrestle around with me. And it was very uncomfortable just because at that age I was very, very scrawny, very lean, and then Jerry was just -- I don't know three, four times my size it seemed, and I didn't really understand what was going on."
At bedtime the abuse would intensify.
"I remember when I would spend the night," Dustin says. "I spent the night in the bedroom upstairs. If you were to go into Jerry's house, you go up the flight of stairs on the left side. There was a spare room up there. I'm not sure if it was air mattress or a futon but it was some kind of mattress close to the ground. And whenever I would go to sleep at night, I had a habit of kind of reading myself to sleep. I was into Calvin and Hobbes comics, Far Side, getting into things like that and I think I was even starting getting into Goose Bumps which was popular at the time.
"I remember I always had mesh athletic shorts that were given to me to wear by Jerry. I had never, that I can recall, taken them home, taking them with me. And I'm not sure what exactly I did with them, and I think that I just left them in the hallway for laundry and then that was it. But I never wore them home or took them with me. They always stayed there."
"But basically I remember laying down and Jerry coming in behind me, laying his front to my back pressed up against me and sort of -- I like to use the word cuddle but it was more like him just wrapping himself around me, just sort of, you know, holding me tightly. I'm not sure any other words I could use to describe it. "
As with the other boys, there were plenty of red flags. But, as with the other kids, those warnings were ignored by Pennsylvania child welfare officials, and judges.
At these times, in the bedroom, Sandusky usually wore a "T-shirt and mesh shorts or sweat pants, sometimes without a shirt," Dustin says.
"To this day I'm sort of repulsed by chest hair now, and I just remember the feeling of it pressed up against my back and looking at it that it just, for whatever reason, it just made me hate it. I don't know. I just have this thing now where I just hate chest hair.
"I remember a few times -- I'm not sure exactly how many. I think it was just two or three times that whenever he was laying pressed up against my back, he would bring his arms around my front and sort of kind of caress my nipples/chest area. And that's another thing that now I cannot stand anybody going near. That's the reason why.
"I remember that and then there was also an occasion when he turned me over and was -- I don't know if I would call it blowing or kissing on my stomach but something along those lines. I don't really have words to describe it. I didn't really understand it at the time."
"...That's the point when I would say, okay, I need to go to sleep.
"And basically I would say I'm ready to go to sleep. I am going to read myself to sleep now. Could you please go? And I need to go to sleep, and then typically he would."



Indoor field at Holuba Hall in State College

---
Already at this early date, 1995, Sandusky's methods of abuse seem well established and entrenched. The abuse, even then, involved the misuse of Penn State facilities to help lure his young Second Mile victims.
"A couple times we would go to Holuba Hall, throw the football around," Dustin explains.
"(Holuba Hall is) basically an indoor practice facility for the football team. We would go, obviously, when it wasn't in use. They had, you know, field goal nets. They had a couple of half football fields, just footballs and, you know, just equipment for practicing with. And we would go to Holuba Hall and throw the football around. It became a practice that myself and some of the other kids that went to games that at one point we would actually go to Holuba Hall and all play pickup games together while Jerry was coaching. And then we would just throw the ball around and go to the game right after that.
"Then also we would go to the (Lasch) building across from Holuba Hall where the showers (were).
"We were at Holuba Hall throwing the football around. Now, I don't think it was anything strenuous but he (Sandusky) had said that we were sweaty. We needed to take a shower before we go back and turn in. I really didn't understand it.
"I think I might have said something along the lines of I didn't think I was sweaty. I didn't think I needed a shower. He kind of just pushed the issue and said we need to take a shower, you know. 'You're sweaty. I'm sweaty. We need to take a shower.'
"I kind of just thought that it was a little odd. But I wasn't real sure how to handle it and, again, I didn't really want to make him angry.
"So I just went with it. And he took his clothes off. I took my clothes off and got into the shower. He had turned on the showerhead beside me, and I had gotten in the shower with him. I remember him trying to basically shampoo my hair and shampoo my back shoulders at which point I slid down another shower stall and tried to get away.
"I don't remember the showers being that long. I just remember coming out of the showers then and he had tried to dry me off and I -- he started to dry off my back and then I said, no, I can dry myself. And I took the towel and dried myself off."
Eleven years old, Dustin had never before showered with an adult.
He says he felt "extremely uncomfortable about it, but I just -- I went along with it. I didn't know really what else to do."
With nowhere, and no one, to turn to for help, the helpless 11 year old suffered through several showers (at least five showers he says) with Sandusky.
"It was the same type thing. It was (Sandusky) trying to soap me up. I would move away. There came a point where he actually came up behind me. Pressed his front to my back. Put me in what I call bear hug which was basically he put his arms around me and squeezed. Again, just basically to the point where it would physically hurt. And then would actually lift me up off the ground which seemed playfully. I'm not real sure why. And then (he) would try to drop me off and I would push him away and I would do it myself.
"I remember him saying something along the lines of let me wash your hair for you, something like that. And then when he did the bear hug in the shower and picked me up, I don't remember him saying anything. I just remember him sort of grunting. I don't remember any words in particular."

At times in the shower, when Sandusky would hug him, "His entire front touched my back side," Dustin remembers.
Eventually Sandusky seemed to tire of Dustin.
"It was just -- I thought I did something to upset him," Dustin remembers. "It was just very, very confusing too me.
"And there was a point when there was a concert that came up, I believe in '99, and I was into the kind of music that was going on for that concert. And I had found out through some of the other kids bragging that they were going to it and they got free tickets from Jerry. And at that point I was a little bit upset that I wasn't offered to go, and it seemed like from that point, when I started thinking about it, that he kind of had favorites and that there were people that got, I guess, special treatment."
Dustin says, "I remember going to his son's, Matt, high school football games at State High. I went with Jerry and (Jerry's wife) Dottie actually. Went to a couple of those.
"I remember getting picked up at my parents' house in Milesburg on Friday nights. Then we would go to his son's (Matt's) football game."
Little did Dustin know or understand that Matt Sandusky was another of Jerry's victims.
Brett was 13 years old when he met Jerry Sandusky in 1997. He was a scrawny 90 pounds, and was "not very big."
He lived for a while with his grandmother in Show Shoe. His mother had remarried, and he didn't get along too well with his stepfather, so he'd stay with his grandmother.
At Mountaintop Elementary School in 1996 he'd gotten into "trouble a lot." His school guidance counselor referred him to a Second Mile soccer camp held in Reading, PA.
The next summer, in 1997, he went to a Second Mile overnight camp on the Penn State campus in State College. That's where he met Sandusky.
"I had a roommate," he says. "(We) were all paired off in the dorms. We had two beds."



Penn State dorms


---
"The roommate that I was staying with knew Jerry Sandusky somehow, and he had came to the room basically to talk to him, see him, and I was there and that's how I ended up meeting him."
Sandusky, he says, "found out that I lived in Centre County and then told me what he did and he was this coach for Penn State and all this kind of thing. And just wanted to know if I would be interested in doing, you know, anything at all. Just going to play some basketball sometime or anything like that. I said sure."
Not long afterward Sandusky called and invited Brett to a picnic at Sayer's Dam. "Jerry came and he picked me up." Brett's car ride was similar to Dustin's.
It was "weird," Brett remembers. "It happened right off the bat, too, the very first time that I had ever rode in a car with him. He would put his hand on my leg. Like, basically like, I was his girlfriend, you know what I mean? Like, sit it there, you know, kind of grab sometimes, do this kind of thing. It freaked me out like extremely bad. I could not stand it.
"That would happen almost every time that I was in the car. I would brush that off. I never would say anything, you know what I mean? But I would push it away. I would brush it off. Keep my arm there if I could, that kind of a thing. But after a little while with me not paying attention, it would be right back. That just drove me nuts."
Like that, Sandusky drove Brett to Sayer's Dam. "I met his family. You know, (we did) the normal thing you do on a family picnic: ate out, those kinds of things. And then at one point we decided to go down to the beach. There's a little beach there. And just, you know, play around in the water.
"He was throwing kids up into the air. Just like you do, you know, with a little kid. Pick him up and throw him into the air but he was trying to -- he was grabbing more like around your buttocks area and trying to throw you. (It was) kind of like he was having trouble getting a good grip. He'd basically be brushing over your genitals and then he would throw you.
"I didn't think much about it right then. It happened, like, maybe twice and that was about it. I just swam away a little bit."
A week or two went by, and then Sandusky telephoned to ask Brett if he "wanted to so something, like play racquetball or basketball, (or) work out."
Sandusky picked Brett up and his grandmother's house and took him to a building on Penn State's campus.
"The only thing that was a little unsettling about it was we first went to the East Area Locker Room and got changed into shorts and a T-shirt and went and did the racquetball or whatever it was. I believe it was racquetball," Brett says. "(We) played that and then came back and he said, you know, 'Let's get a shower.'"
"And at that time I had never showered with anybody in my life. I didn't get showers at school. During gym class or whatever, some kids would go get a shower. I wouldn't. I would just splash some water on my face. It was kind of weird to take showers in front of people."
Brett showered with Sandusky in what the young man remembers as a coaches' locker room. He says the abuse happened in both the old East Area Locker Room, and the newer Lasch Building shower room.
"He told me it was the coaches' locker room. I had seen coaches in there."
A week or two later he got another call from Sandusky.
"Same type thing," Brett says. "It was either we'd go play racquetball or some basketball. Same exact deal. We would go back to the coaches' locker room. Get changed. Go do whatever, and then come back and get a shower."
Over the next two months or so, over the course of many showers (Brett remembers as many as 15 showers), Sandusky began to get physical.
"Kind of like play fighting, slapping around type thing. That's how it basically started.
"The horsing around would lead to him starting a soap battle. There was soap dispensers beside each one of the showers, and he would pump his hand full of soap and basically throw it. You know, I thought it was a game. So I went along with it which eventually led to him getting a lot closer to me. Like, you know, bear hugging me, grappling me -- grappling me up, these kind of things.
"After a little while, it led to him more like hugging and caressing me and him wanting me to, like, wash his body. He wouldn't say it. He would just kind of like take his hand and wash his body. He would do the same to me."
The 1997 football season began, and Coach Sandusky began taking Brett to Penn State games. Sandusky at this time was at the height of his career and reputation as a talented defensive coordinator for the Nittany Lions.
"Basically what would happen is usually he, Jerry, would come pick me up after school. I would already have my clothes and all that kind of thing ready because I had known, you know, at least a week before that I was going to a football game. And he would come pick me up from school.
"We would go back to his place and just hang out there throughout the day. Sometimes we'd go see the players or he had a meeting that he had to do. And I would stay at night at his house. And then on Saturday mornings we would wake up, eat breakfast, and then usually go to either pick up a few other kids, or go to Holuba Hall, and there would be other kids there that we had gotten. Jerry would go off to get ready for the football game. We would hang out there at Holuba Hall and play football until time for the game, and then we would walk across to the game.
"Usually we'd walk across to the tailgate party that his family was having, eat, and then go into the game.



Beaver Stadium


---
"The first couple games I went to I sat with his family up in the stands." Then Sandusky began to allow Brett to sit on the sidelines. It was a big deal for the boy to sit out in front of tens of thousands of cheering fans, a guest of the famous coach, and watch the game.
"I was a mascot, you know what I mean?" The players were "extremely nice to me."
"Oh, I loved it," Brett says. "At this time Penn State was very good."
It was "a huge deal" Brett says to go to the games.
He "loved it," he says. "Even to this day, I'm a hard core college football fan. Oh, yeah. Yeah. It didn't take very long to be in that atmosphere to enjoy it."
During this '97 football season, however, between games, Sandusky kept taking Brett to the shower. Before long Sandusky began forcing the boy into sexual acts. He'd place the boy's hands on his body.
"Basically my hands touched his penis, and every other part of his body, pretty much," Brett says.
Brett was afraid to complain or tell anyone, fearful that Sandusky would no longer take him to the football games, and other places.
"I didn't want to lose the other things (which) were, you know, nice. I didn't want to lose that."
So the abuse intensified.
"After a while the soap battles would lead more to him wrestling around and maneuvering me onto the ground," Brett says. "And once that would happen -- now, I'm a little kid. There's not, you know, (a thing) that I could do. He's a big guy.
"He would basically maneuver either himself to where I would be between his legs and his penis would be in my face or he would maneuver himself, like, down where his head was between my legs and, like, kiss on my thighs, things like that. And if it was the other way around, he would have his penis in my face, like, rubbing on it and he would get erect. He would try to, not every time, but, you know, just sort of sneakily try to put it in my mouth. ...It would get, you know, more to where he's actually sticking his penis in my mouth, you know. There's even a few occasions where he ejaculates."
Afterwards, Sandusky would never speak about what happened.
Sometimes, in the shower, they'd hear the sounds of other coaches coming into the locker room. They could hear the four buttons of the lock to the door being opened.
"You could hear it. It would be like click, click, click, click and then you could open the door." If they were on the floor of the shower, Brett says, they would have time to stop what they were doing, and "jump right up."
Warned by the sounds of the lock, they'd jump up from their "wrestling match" on the floor of the shower when the other coaches came into the locker room.
"Nothing was going on when they came in but, yes. I have been in there when many different coaches have come in. I knew most of them by that time. There was Ganter, Bradley, oh, man. Anderson, Sarra."
Brett says he would say hello to the other coaches in the locker room, and they'd say hello to him.
When the new Lasch Building shower room was opened, Brett says, "they put in a sauna as well. So once we started just going to that locker room, it turned from the shower thing to ... work out, play racquetball, (and) we would go to the sauna then, and the things would basically start there. And then have a shower afterwards."
The sexual abuse, Brett says, "started happening more and more frequent to almost every time that I'm over there. (And) I'm over there, you know, two to three times a week."
The abuse, he says, went on "for years."
"At some point," Brett says, after the 1997 football season, Sandusky "attempted to slide a finger in my butt. And on another occasion he had attempted to actually penetrate me with his penis."
When Sandusky tried that, Brett says, he "got out of the shower."
Brett estimates Sandusky forced him to perform oral sex "40 times, at least."
Kids at school meanwhile, Brett says, were jealous that he got to attend Penn State football games on the sidelines with Jerry Sandusky.
"I'm in high school at this point and people are jealous," he says. "I mean, that's the way that I look at it. ... So they want to tease you, you know. They're making up things like, oh, you know, 'you're being molested by Jerry and you're his little butt buddy' and all these kind of things, you know.
"And you know how kids are. They got to pick at each other. It really is happening but I have to pretend like it's really not happening to everybody else."
As the abuse continued Sandusky began to reward Brett with increasingly greater perks, which in turn fanned greater jealously among Brett's schoolmates. He'd take the boy on trips, and take him along to the luxury Toftrees resort in State College, to stay with the team on nights before home games.
Brett even ended up in an issue of Sports Illustrated.
One day Sandusky told Brett that the nation's premier sports magazine was doing a story on the original Second Mile foster home.
Sandusky founded the Second Mile some 20 years earlier, in 1977. He used the proceeds from his football book Developing Linebackers as seed money, and cajoled others in the Penn State community to contribute. He organized "celebrity" golf tournaments that soon would become annual events.



Sandusky at 2007 Second Mile Celebrity Golf Classic


---
In 1981 the Second Mile charity used the resulting $64,000 to purchase a two-story house on twenty acres of land on Bernal Road, not far from Beaver Stadium. The plan, on the surface, at least, was to turn the house and grounds into a foster home.
The next year, in 1982, the Commonwealth of Pennsylvania licensed the Second Mile as a foster care agency. By October 1982, three foster kids -- all boys -- would be living in the house.
Twenty years later, in the late 1990s, Sandusky told Brett that Sports Illustrated wanted to do a story on Second Mile and the Bernal Road foster home, and all the good works that were done there. He asked Brett if he wanted to have his picture in Sports Illustrated.
"Of course, you know," Brett says, "I'm jumping all over that."
Before long Coach Sandusky even promised Brett that he could one day play football for Penn State.
"He even said to me that, you know, I could have a spot on the team. He could get that." Brett was still a scrawny kid and, in retrospect, it seems ludicrous that he could have been a college football player.
Sandusky took to letting Brett wear the football uniform of Penn State linebacker LaVar Arrington.
What Brett didn't know at this time was that Sandusky was also sexually molesting Matt, Dustin and other boys.
Even so, Brett got an inkling that something was wrong with Matt's relationship to his adoptive dad.
One time, Brett says, "Me and (Jerry) and his son, Matt, had gone to play racquetball. And after we were done with playing racquetball, we came back to the locker room. It was the same thing, you know, we went there first to get changed. When we came back, Matt got undressed and went into the shower. And then me and Jerry came in. We were in there maybe -- I don't know. You know, a minute or two, and that's when (Jerry) started, you know, pumping his hand full of soap and threw it. At that point Matt got up and left. Not got up but just, you know, shut off the shower and left."
Brett also didn't know this: a few months after the 1997 football season, in early 1998, Sandusky would be caught in the Lasch Building shower room with two other Second Mile boys.
Sandusky would be questioned by police, and an investigator with the state child welfare office.
Had the police, the investigators, and the district attorney dug even a little bit deeper, Sandusky would have been exposed, and the abuse of Brett, Matt, Dustin and the other boys would have stopped.
Unfortunately for the kids, that's not the way it happened.
4. Zach and Brendan 1998
Jerry Sandusky's next known victim was a talkative 11-year-old named Zach.
Zach first met Sandusky at a Second Mile picnic in Spring Creek Park in the spring of 1998.
By this time, Sandusky had been molesting Second Mile kids for at least ten years.
"I was a huge football fan then," Zach remembers. "I kind of grew up in a Penn State fan house. My sister went to college there and I've been following the football program. (Sandusky) was a part of the start of The Second Mile. Anything to do with Penn State, I just wanted to be a part of it."
"I made my way up to (Sandusky) after some of the activities were done. I went up to him and I think I introduced myself to him, because I was really excited to meet him," Zach says.
Sandusky suggested he'd take Zach to "work out" and "lift weights" on the PSU main campus.



Excercise room at PSU Lasch Building


---
As with the other boys, Sandusky personally made arrangements to call Zach's mom to ask permission to collect and spend time with the boy.
Sandusky, Zach explains, "invited me to work out at one of the Penn State facilities and confirmed it with my mom. She allowed that to happen. He came to pick me up."
On the evening of May 3, 1998, Sandusky drove over to Zach's house.
What happened next would be familiar to Sandusky's other victims. Sandusky's modus operandi by this time was already well worn and time tested.
In his car Sandusky would immediately place his hand on Zach's leg. They'd drive over to the PSU campus, "work out" for a few minutes, and then Sandusky would take Zach into the coaches' locker room for a shower.
Zach remembers it like this:
"I was really excited that day to go see Jerry, to work out at the building and just enjoy the day, the events," Zach says. "(Jerry) came, knocked on the door. I was all ready to go in my workout clothes, just like a pair of shorts and a T-shirt, and he and my mother talked for a few minutes, just how the program was doing at Penn State, the team.
"And after the conversation was over we walked to his car, which was right outside, got in his car, put seatbelts on, and I was sitting in the passenger seat. He reached over and put his hand, like, right next to my knee, leg, knee, on the top part, and I remember just feeling that it was a little bit odd, and I kind of pulled it away just a little bit towards the passenger door. And I believe that it just remained on there, so I just kind of rolled with it.
"I don't remember what happened in the car. We just kind of made small talk. Got to the building next to Holuba Hall. We entered. He was showing me some of the players' equipment. I believe he let me try on some of the helmets and shoulder pads, maybe Curtis Enis or some of the notable players that I knew. I remember they were huge for me, a lot of wiggle room with the shoulder pads. I could move my head and the helmet would just float around.



Staff locker room in Lasch Building
"Then we moved on to the coaches' locker room. He showed me the offensive coordinator's locker. He showed me his, JoePa's. I was really excited to see his. He gave me a pair of his socks. I was thrilled with that. He gave me a little bit more of a tour, and then it was time to start some of the activities."
Sandusky invited Zach to play two indoor games of Sandusky's own invention, which the coach called "Polish soccer and Polish bowling." These were played with a ball made of rolled-up tape.
"I remember playing those games in the hallways," Zach says. "After the bowling, the soccer, then I believe we wrestled a little bit on the carpet. He was showing me how to -- how to pin. He would, you know, pin me and say this is how you pin, and we were just kind of rolling, doing a few wrestling moves. He was just showing me some moves.
"I felt uncomfortable with it, but it was Jerry Sandusky. So I didn't want to make him mad. It was just a little -- slightly uncomfortable, because I didn't really know him and it was just close."
From there, as with Brett a few months earlier, Sandusky suggested they lift weights.
"I think he gave me a pair of workout clothes, some shorts and maybe a shirt. I just kind of remember thinking I kind of came dressed for that, to work out," Zach says. "And so I put them on and they were a little larger. I remember pulling the drawstring all the way out to keep it up. We went to the gym, which was down the hallway. He was introducing me to some of the machines, the equipment, kind of helping me out, showing me how to do it. He was watching me do it. He was kind of helping me, I think, with the mechanics."
As with the other victims, the "workout" lasted only a short while, perhaps 15 or 20 minutes, before Sandusky suggested they take a shower.
"I remember him saying, 'Okay, now it's time to shower, to rinse off,' and my immediate thought was, 'I'm not even sweating yet.' It was only 15 or 20 minutes, but I didn't want to be awkward to him about it, so I said, politely, 'Okay,' and we left the gym area. He let me un-change in one of the locker rooms. I think it was the coaches'. He went in a different room and I started to really get uncomfortable as I'm taking my clothes off.
"No one, you know, besides my parents have ever seen me like that, without clothes on. So I think I put a towel around me, walked towards the shower. He was already in there, waiting, with his shower going. I believe it was straight ahead, maybe off to the right a little bit. And he had a shower right next to him going, and I immediately walked in and went to the left and turned on a shower across the room. I didn't want to be right next to him in the shower and it just felt really awkward.
"Once I turned on the shower across from him, on the other side of the wall, he said, 'Why don't you come over to the shower?' next to him, because he had already warmed it up for me. So I said okay. I really didn't want to. That even made it a little bit more hard, and I went over and he made a lot of jokes to, you know, make me laugh, and it was just joking around a bunch and he started to kind of tickle me.
"I think he said he was the tickle monster. He started to tickle me, like, on my -- underneath my arms and on my stomach and chest area. And I believe at some point he, you know, grabbed me from behind, gave me a big bear hug and, you know, kind of lifted me up and just said, 'I'm going to squeeze your guts out,' like in a playful manner and just, you know, squeezed and made a growling sound.
"And I remember seeing his chest hair right next to my face. I'm like, 'This is just -- this is icky.' I didn't want to. So I, you know, tried to get out of his grasp. But at the same time I'm trying to be in a joking manner with him so I wouldn't make him upset.
"Just more of the tickling occurred. (He) made a bunch of jokes and (was) you know just trying to tickle me and lighten the mood up. And then time to wash up.
"So I was putting soap on my body and he said, 'Here, let me help you with your back, where you can't reach.' He took soap and, you know, lathered it onto my back and shoulders and all. And at that point it just -- it was just -- it just would escalate, the uncomfortableness of it--. But I was at the same time just trying to not make him feel mad that I was kind of feeling a bit awkward about it.
"Then he took me, put his hands around my waist like this --" he demonstrates "-- and lifted me up to the showerhead to get the soap out of my hair, and I believe my chest was to his chest. I don't -- I can't remember -- I don't think it was touching, but I just remember going into the showerhead and having to close my eyes so the soap wouldn't get in my eyes.
"And that's the last thing I remember about being in the shower. It's just kind of black."
For Zach it would almost be like an alien abduction. He remembers little after the moment Sandusky lifted him to the showerhead. The running water. The showerhead. The echoing shower room. Sandusky lifting him high.
"I got home somehow and everything else is just blackout. I just don't remember it," he says.
To this day Zach can't remember much. He remembered that Sandusky said he'd take him to the movies. Sandusky said Zach could come over to his house, where the coach said he'd let Zach sit on his lap and the two of them would look at the Internet on Sandusky's computer.
Sandusky also promised Zach he could sit on the bench at Penn State football games. Zach asked if his mother could come along, since she also liked football. "No, just you," Sandusky told him.
Other than that Zach doesn't seemed to remember much else about his ride home.
"I don't believe he walked me to the door."


Zach says he had a friend named Brendan, who also was in the Second Mile in the same time period. Zach said he'd asked Brendan if he'd ever gone into the shower with Sandusky.
Brendan told Zach that Sandusky also wrestled with him, and had squeezed him in the shower too.
5. Ryan 1998 and 1999

Ryan was 10 years old and living with his foster mom in Milesburg in 1997 when a school counselor referred him to a Second Mile camp.
That summer Ryan attended a five-week Second Mile camp at Penn State's main campus, where he stayed in the college dorms.
He met Sandusky that summer.
Sandusky "was in the outdoor swimming pool. He was going around introducing himself to people."
Nothing happened between the coach and the boy that year.
The next year, in the summer of 1998, when he was 11, Ryan again attended Second Mile's camp at PSU.
"The second year I met Mr. Sandusky in the pool again," Ryan says. "He came up from behind me. (He) swam under in between my legs and went to lift me up on his shoulders. He stuck his hands up the front of my swim trunks. Mr. Sandusky reached his hands up the front of my shorts and grabbed a hold of my genitals."
Later, that fall, Sandusky, Ryan says "contacted my guardian at the time. (He) told them that he wanted to come pick me up and take me to a football game."
After the game, Ryan says Sandusky took him back to the Sandusky's house. In the car, Ryan says, Sandusky "had his hand on my inner thigh."
Once at the house, he says, Sandusky took him down into the basement.
"We were wrestling, and (Jerry) pinned me to the ground. He pulled my shorts down and started performing oral sex on me. I freaked out. I got nervous. I got scared."
Sandusky "told me that if I told anybody that I would never see my family again." Later, Ryan says, Sandusky "apologized for saying that. Told me that he didn't mean it and that he loved me."
In 1999, his third year at Second Mile camp, Sandusky took him shopping at the Nittany Mall, Ryan remembers.
"He bought me some shoes, some clothes for school. He bought me a video game."
After the shopping spree, he recalls, Sandusky took him back to the basement of the house. Sandusky again performed oral sex on the boy, "And vice versa," Ryan says.
After this incident, Ryan explains, he no longer wanted to go to Second Mile camps. Nor did he want to again see Jerry Sandusky.
In 1999 Jason was 12 and living with his mother and his little brother in Moshannon, Pennsylvania. He attended Mountaintop Elementary, and met Jerry Sandusky through a Second Mile camp.
"I met Jerry Sandusky Casino Night at The Second Mile," Jason says. "One of the counselors brought me up to him, introduced him -- introduced me to him -- and we talked for a while. And then he asked me if I wanted to go to his football camp. I agreed."
"Jerry drove me (to football camp)," Jason says. "Jerry drove me, and it was in Latrobe."
As with the other boys, Jason says, "I think the hand on the knee thing happened, like, right away. That was a big thing for Jerry, rubbing the knee and the inside of the leg and tickling me and stuff like that."
After football camp, Sandusky took Jason to a Penn State Blue and White game. "It's in Penn State. It's at the big stadium."
"It was awesome. I loved it. I hadn't been to a Penn State blue and white game before that. I hadn't been to any Penn State game before that. That was my first Penn State game."
"After that I stayed at his house pretty frequently, and we also went to Syracuse, New York. He was there to give a motivational speech, I believe, and he drove us up and we stayed in the hotel. It was just me and him."
"I stayed at his house frequently, like I would say 50 times over a three-year span. He was like a father to me."
Jason slept downstairs in the Sanduskys' house.
"It was during the week most of the time," Jason remembers. "I would go to high school and then he would pick me up -- well, it wasn't really high school at the time. It was middle school, but it was attached to the high school, so I went to the middle school and he would pick me up from there, drive me over to his place or the gym or racquetball or Holuba Hall or wherever we went at that time, and then he would drive me back to his place. We'd have dinner and then I would sleep over."
"I always slept downstairs. Well, I slept upstairs once whenever, I think, Matt was home or something like that. Matt, his son.
"You go downstairs and to the left. There're pool tables and shuffleboard and stuff like that. We played shuffleboard. I wasn't into pool at the time."
And then there's a room (with) a big waterbed. That's where I slept."
"I didn't really think it was weird at the time, until later on, but he would come in and he would have his shirt off. I would be in all my clothes, and he would ask me why I would want to sleep with all my clothes on. So eventually I would strip down to my underwear.
"So I'd be in my underwear to sleep in and he would be in shorts and no shirt, and he would sit on the edge of the bed and he would talk to me and make me laugh or something like that. Whenever he made me laugh, he got excited and jumped into bed with me and started tickling me.
"And he would start rubbing my stomach, blowing on my stomach and pelvis. He would also touch my penis.
"It was frequent, pretty frequent. He had a big thing for grabbing your kneecap and tickling it and then working his way up your thigh."
Jason didn't complain, he says, because "I was enjoying the things that I was
getting too much."
Sandusky began to take him to the gym to "work out."
"Then we would go back and get a shower."
"The first time we took a shower I went into the shower room and I was nervous because I had never showered with another man, let alone a grown man before," Jason says. "I was kind of nervous about taking off my clothes and stuff like that, and he coaxed me and forced me into taking off my clothes, and he went over and turned on the showers.
"He turned on his shower and one right next to him. I came in and I turned on a different shower that was further away from him because I was kind of uncomfortable at the time. I didn't -- I'd never done that before. So I would come in. I would turn on a showerhead further away and he would make me feel bad about it, like -- like I didn't love him or like I was afraid of him or something, that I was showering too far away.
"And so he would get me to move closer to him, where he would wash my shoulders, my butt, my back. He would pick me up and bear hug me, like give me a real big hug while -- toss me in the air both with my back to him and my front to him.
This happened "every time we went to the gym."
In bed, meanwhile, for the next several years, through 1999, 2000, and 2001, Sandusky would touch his penis.
"He would touch me and rub me and grab me, and he gave me an erection. And at that time I would roll over and try to get away from him, and that's -- that's pretty much where it would stop. I wouldn't let it go any further."
"I knew that I wasn't supposed to have one from a man. I mean -- I mean, I was a kid."
Still, Jason didn't tell anyone about this abuse for years.
Sandusky "made me feel like I was a part of something, like a family," Jason explains. "He gave me things that I had never had before. I just didn't want to give any of it up.... Sandusky told the boy he "was like extended family, (and) unconditionally loved."
"I loved him," Jason says.
"The reason why I broke it off with Jerry is because I had to go away," Jason says. He robbed an old man and got in trouble with the law. "I got sent away to a group home, to two different group homes and then in foster care, where I eventually graduated out of. I had no further contact (with Jerry) after that point.
"I would pray he would call me and maybe find a way to get me out of there, adopt me or something. That never happened."
Sandusky, he says, "never contacted me, never. My mom never even heard from him to find out where I was."
"I'm infuriated (with Sandusky) right now," Jason says.
7. Unknown victim 2000

In the fall of 2000 Ron Petrosky worked as a janitor at the Penn State main campus in State College.
"At that time I was what they call a grade nine janitor," he says. "I worked in the football building, (called the) Lasch Building. I would clean the showers at night, take out the garbage, shampoo all the carpets when they needed shampooed, and clean the windows. I was throughout the building, like, all night -- different times in the night. That's what my job was.
"It was in 2000, the fall of 2000, during football season. (The) football players were away. It was before a home game. Usually they left Thursday or Friday night before the games. If I recall right, I believe they were going to play Ohio State that weekend.
"So the building was empty. It just had five guys and the janitors and that. My job was to clean the showers.
"At the football building they change their shifts three times a year because of football, of course. But when this incident occurred we were on, I believe, it was 7:00 to 3:00 in the morning.
Several other men worked the late shift with Petrosky, including a janitor named Jim Calhoun.
"Jim was a part-time worker, Petrosky explains. "They call it wage payroll, and he was there -- I think he was retired or just about ready to retire. So it was just supplement income until he reached retirement age."
"Jim Calhoun was what they call 'them gray tents.' They go in and pull the garbage and clean up the locker room. They cleaned the toilets, the urinals.
"My job was to go in and do the showers after they were done.
"So this particular night, Jim, he was already in the assistant coaches' locker room. I went in to hook up the hose.
"I came down the hall with my cleaning stuff. I had a cart. I had my cleaning stuff on the cart with the hose. I would always go in and hook up the hose. There was a hose hookup under the sink. So that's what I did first.
"When I entered the room I could hear the showers running. That really thrown me off because a lot of times players or coaches would leave the showers run after they had already showered.
"And when I hooked the hose up, I could hear Jim (Calhoun) in the toilet area cleaning. He was already in there. He was in cleaning the toilets in the stalls. I think there were three or four stalls there. So I didn't think much of that.
"So I hooked the hose up. I started walking over towards the shower. I just about went in the shower, and I could see two sets of legs in there. To me it looked like there was one set of hairy legs and one set of skinny legs.
"So I dropped my hose and just backed out.
"I went back outside in the hall area, and continued to mix my chemicals to clean.
"I figured, how long does it take to take a shower? I was going to wait until whoever was in there come out and then I would finish my cleaning."
After a few minutes, as Petrosky stood waiting in the hall, "Jerry Sandusky and a small boy" came out of the shower room, he says. "Both of their hair was wet and they were carrying gym bags.
"I said, 'good evening, coach.' If I ever see him, I call him coach.
"They exited the door and then took a right, went out the long hallway towards double doors where the stairs go up to coaches' offices and that.
"About three-quarters of the way down, Jerry took the boy's hand as they walked out through the doors. The doors closed and then, of course, I didn't see them again.
"I finished (mixing) the chemicals," Petrosky continues. "I grabbed my bottle and I started in the door and Jim (Calhoun) was coming out of the (shower and toilet area.)
"There's double doors there before you go in to the locker and I met Jim (Calhoun) in between the two doors, between the hall and where you entered the locker area.
"And I could see he was upset. His face was white. His hands was trembling. I thought it was a medical condition. I said, 'Jim, what's wrong?'
"And this is how he said it to me. He said, 'Buck,' -- that's my nickname. He said. 'Buck, I just witnessed something in there I'll never forget the rest of my life.'
"I said, 'What are you talking about, Jim?'
"He said, 'That man that just left, he had the boy up against the shower wall licking on his privates.'
"I said, 'Are you sure that man that just left?'
"He said, 'I'm sure.'
"I said, 'You know who that is?' I said, 'That's Jerry Sandusky.'
"He didn't know who he was but he knows what he seen that night.
"I asked Jim if he wanted to call somebody or, you know--. He said he didn't. He was afraid I guess and so I calmed him down.
"We went down the hall. There was a meeting room off to the right. He was crying and shaking. Jim was so shook up, I called for other people. The other guys come down from upstairs.
"He told the other guys the same story then.
"He told Jay and them, he said he seen Sandusky holding that boy up licking on his privates.
"He said, 'He was sucking on his dick,' is what he said.
"We thought he was going to have a heart attack. We kept people with him all night throughout the night, and made sure he was all right.
"We had to finish our jobs, of course, but it was hard to concentrate after that.
Petrosky says he saw Jerry Sandusky later that night, in separate and strange circumstances.
"Between probably 10:00 and 11:30 I was out cleaning the windows towards the coaches' office," Petrosky recalls. "There's a balcony there. I could see out into the parking lot.
"I seen Jerry Sandusky drive real slow by. It was about 10:00, 10:30, 11:30.
Later that night, "almost at quitting time," Petrosky says he saw Sandusky again.
"Quitting time was three. So it was 2:00, 2:30.
"I was taking the garbage out. We stage it out there for the people in the morning to throw it in the dumpster. I seen him one more time drive real slow. He never got out of the car or nothing. He didn't have the boy with him then.
Jim Calhoun didn't work at Penn State too much longer as a janitor after the incident, Petrosky says.
Calhoun never reported the incident.
"No, he never did," Petrosky says.
None of the men reported the incident.
In 1999 Michal was ten years old and living in State College with his parents and older brother when he first met Jerry Sandusky at a Second Mile overnight camp at Penn State.
His parents were Polish immigrants, and Michal was having difficulty speaking English. His guidance counselor at Park Forest Elementary School recommended the boy go to a Second Mile camp.
"Because I lived in a household where Polish was the prominent language," he says, his guidance counselor "thought it would be a better idea for me to learn how to speak English with a bunch of kids over a summer camp."
Activities at the camp included swimming, soccer, and football.
Then one night, he says. "There was a skit performed by Mr. Sandusky where he was a Polish gangster, and I'm Polish. I approached him and told him that I was Polish. And it was just cool to meet the camp director.
"He was like, 'Oh, cool. I'm Polish, too.' He said something in Polish but I don't recall what he said."
Sandusky's Polish wasn't very good, he says.
Sometime after the end of the first summer camp in 1999, he says, "I received a phone call at my parents' home. I believe my mother picked up the first call. It was Jerry.
"He asked me if I wanted to go to some Penn State football games and hang out with kids and go throw the football with a bunch of other kids. I thought it was going to be a lot of fun.
"He came and picked me up at my house with a bunch of other kids in the vehicle."
He fell into a routine at these games.
"We usually got dropped off by the indoor football field," he says. "The older kids led us around to play football in the building and just mess around.
"Eventually we would go to a tailgate where we would have food before we went into the football game. I went to many over a few seasons."
Sandusky would call the day before a game, and then pick up Michal the next morning.
In the car, he says, Sandusky "would usually reach over and put his hand on my left leg while he drove."
"In some sense" this made Michal uncomfortable, he says, though it wasn't totally strange to him. "My father would always squeeze my knee to help me relax because there's a pressure point there."
Another incident seemed stranger.
"We went to Reading once to a football game. It would have probably been 2000. I believe it was just him and I. I think it was an Albright Lions football game, and on the way down to Reading, he placed his hand on my thigh."
Then one day in the summer of 2001, "my mother received a phone call and it was Jerry asking if he could talk with me," he says. "He asked me if I wanted to go to the gym and work out."
Sandusky picked up the boy and took him to a gym in "the building next to Holuba Hall on the Penn State campus."
"There was a bunch of fitness equipment and I believe he put me on a treadmill type of unit, and we're on it for a few minutes. And then he showed me how to do some chin-ups on a bar, but it wasn't a chin-up bar. It was one of the things you pull down on your lap. And I wasn't strong enough to pull it down. So I lifted myself up on it."
This "workout" only lasted a "very short period of time," and seemed to offer little physical benefit.
Suddenly Sandusky said, "'Let's go to the sauna.' I said sure. I have heard of what a sauna was but I didn't really know what the point of it was.
"We got undressed and we had just towels on," Michal remembers. "We sat down in the sauna, and it was really hot. I was sitting there with my towel on, and Jerry had his towel and then he parted the towel out.
"He sat down on his towel and he sat back and exposed himself to me."
This made Michal uncomfortable, he says. "It felt like forever. It was really hot."
Afterwards, he says, "We left the sauna, and we went down like a long hallway and ended up in the shower area. And he hung up his towel and turned on a bunch of the showers.
"I went to the far end of the shower. I stood under the showerhead and I tried to face the wall as much as I could. I kept looking over my shoulder, and I saw that he was standing a few feet away from me but it was just uncomfortable and I could just -- I felt like he was looking at me
"I noticed that his penis was enlarged but I didn't understand the significance of it back then and just stood in my corner area. And I noticed he started coming in my direction and he threw some soap at me and started lathering my shoulders.
"And I crept forward a little bit more as did he, and I felt his body on my back, and I kept lurching forward but I didn't have any more -- anywhere to go, and I just felt his penis on my back.
"I kind of like turned away and I felt his arm move forward and he touched my hip, my genitalia. And then he took my hand and he placed it on his.
"That was -- I don't know how long that was but I was able to just round around the corner and get away. I just remember just drying off. That's pretty much it."
Sandusky "was upset with me," Michal says. "Because he didn't talk to me. Just no eye contact."
Sandusky drove the boy home. After that, Michal says, Sandusky never again called.
And Michal never went to another football game with Jerry Sandusky.
Assistant Penn State football coach Mike McQueary recounts the following:
"I had gone to bed early, actually laying in bed, watching the movie Rudy, a football movie, actually. It was a Friday night, and after about an hour or so of watching the movie, I got fired up and just said -- you know, I went to bed at 8:30 or nine o'clock, let's get up
and let's do something and get motivated.
"So I decided to get up and go to the office and do some work. I was going to look at a couple recruiting tapes. We had just come off of a recruiting cycle and the junior tapes were in, and I was trying to get involved with that.
"And so I got in my car, drove to the Lasch Football Building. Earlier that day, I had bought a pair sneakers and I said, well, on my way in, I'll take my sneakers to my locker, and got the sneakers out of my car, walked to my locker, which was in the support staff locker room at that time. And there are two doors to that locker room and -- opened the first door.
"And immediately upon opening that door, I heard showers running and smacking sounds, very much skin-on-skin smacking sounds, and immediately became alerted and kind of -- I don't know -- embarrassed that I was walking in on something that I didn't want to see or walk in on.
"I thought maybe one of the other people had someone with him in the showers, one of the guys in the locker room, someone who worked there. I went into the second door, and in that room my locker was immediately to the right of the second door, literally probably where my hand is, turned to my locker, and, as I'm opening my locker, glance over my right shoulder right there into the mirror.
"In that reflection you can see a 45-degree angle into the shower room. Okay. So I'm not looking directly in the shower room with my own eyes, but I see in the mirror Coach Sandusky standing behind a boy who is propped up against the shower.
"The showers are running, and he is right up against his back with his front. The boy's hands are up on the wall. And the glance would have only taken one or two seconds. I immediately turned back to my locker, trying to digest what I just saw and making sure I saw what I just saw.
"I stepped probably two or three feet or paces to my right to get a better view with my own eyes into the locker -- again, I didn't want to trust the mirror.
"I thought maybe I wasn't seeing what I was seeing and looked directly into the shower at that angle and again saw what I explained: Coach Sandusky standing right up against the back of the young boy with the boy's hands up on the shower wall, Coach Sandusky's arms wrapped around the boy's midsection in the ... closest proximity that I think you could be in.
McQueary says he was "extremely alarmed, extremely flustered,
extremely shocked, all of those things."


Sebastian lived with his mom in a trailer in McClure, a small town outside of Lewistown. His nickname is Seb.
He attended Second Mile camps for three or four summers, beginning in the mid-2000s. Seb remembers meeting Jerry Sandusky in the swimming pool at Penn State when he was about 12, in 2005. Seb weighed about 67 pounds at the time, he says.
"He was playing with the kids in the pool and I went over there, started playing with the kids and him, and he started talking to me, asking me if I wanted to hang out outside the camp," Seb says. "I gave him my mom's number and stuff, and then he called my mom. They talked, and I started going over to his house."
He thought he'd enjoy hanging out with Sandusky because, he says, "he's a well-known guy and he's nice."
A few weeks later Seb began sleeping over at Sandusky's home.
He would stay at Sandusky's house for the next three or four years, he says, until 2008 or 2009.
"At first he was nice and stuff," Seb says. Sandusky gave him gifts: "He got me a running suit, racquetballs, and a tennis racket."
He also took Seb to Penn State home games.
Before long, Seb says, Sandusky "would come to the bedroom with me when I would go to bed and start rubbing my stomach and stuff and cracking my back and hugging me and kissing me all over and stuff."
"I told him to stop."
But Sandusky wouldn't stop.
Sandusky would be "Telling me he loves me and stuff and he wants the best for me. (He) started taking me to the pool and stuff, and the gym. And we would be -- like, if we were in the pool, he would never let go. Like, he would always have his arms around me and hugging me."
Sandusky first kissed his cheeks, and then his lips.
Then, Seb says, "He started getting physical, like had me touch his penis and stuff."
Seb kept going to the Sanduskys', he says, because "my mom wanted me to go. ...She just thought it would be a good idea for me."
He didn't want to go back to Sandusky's house, but felt trapped. He couldn't tell his mom what was happening.
"How are you supposed to tell your mom something like that?" he asks.
Finally, Seb says, one night when he was staying in Sandusky's basement, Sandusky "came into the room, pulled his pants down, laid on top of me, (and) kind of forced it in. ... He said suck -- suck my penis."
"What was I going to do? I mean, look at him. He's a big guy. He was bigger than me at the time, way bigger than me."
From 2005 to 2009, Seb says he stayed over at Sandusky's house up to 150 times.
On "all of those occasions," Seb says, Sandusky would kiss him.
On "some of those occasions," Sandusky would make him "suck his penis."
Then, "He put his penis in my butt. That's how you'd have to put it.
"He came in. I sucked his penis, and then he got real aggressive and just forced me into it, and I just went with it. There was no fighting against it."
Seb says he would, "Sometimes scream, sometimes tell him to get off me. But other than that, who was there? You were in the basement. No one can hear you down there. You're always down there."
Seb says Sandusky molested him "more than once."
It happened, "just a few times." But, he says, "I got to the point after that to where I had enough of it. I just quit going. My mom would try to tell me to go and I would just tell her no and get real bullheaded and stubborn."
Finally, sometime in 2009, Seb says he simply refused to go back to Sandusky.
"It was the last time I stayed at his house. I called my mom and I told her to come pick me up. I didn't tell her why or for what. I just told her to come pick me up and she came and picked me up.
"He was trying to be physical with me and I had enough of it, and I kind of just called my mom, because I had a cell phone finally. I called my mom and told her to come pick me up, and she came down to State College, to his house, and picked me up."
Aaron was 11 years old and living with his single mom in Lock Haven when his school guidance counselor referred him to a Second Mile overnight camp.
The Second Mile, he says, "sent out things to the school that (it) wanted to recruit kids, and ... the school suggested me to it."
"There was things like swimming," he says. "Played a few games, some other things."
Sandusky, he says, "introduced himself to everybody the first year that I went."
It was "the third year that I kind of got to know him a little bit more."
"He came up and spoke to me aside from the group I was with, about the camp."
"What fun I was having. What could be more fun, just a general question about the camp.
"A little bit after my second or third year" at the Second Mile camp, Aaron says, Sandusky came in a car with several other boys and took him to Blanchard Dam.
From then on he'd attend football games with Sandusky. They'd go swimming, and wrestle.
When they were driving, Aaron says, "He put his hand on my leg and just kind of kept it there as he was driving. I didn't really think anything of it."
Sandusky finally suggested that Aaron spend the night at his house.
"My mom didn't find anything wrong with it," he says. "I didn't find anything wrong with it. So it kind of just went."
"She kind of let me do my own thing. She asked if I wanted to go and in some ways she encouraged it. She said that maybe, hey, it might be good if you go and do some stuff with Jerry, and so I did."
"It was fun, the stuff that we did, and with her encouraging me, I just thought, hey, I'm having fun, so why not?"
"The first time I stayed over at his house we ate lunch, ate supper, played some various games in the basement. There was a pool table or shuffleboard table, a dartboard, and an air hockey table," Aaron remembers.
He'd end up staying in Sandusky's house "probably close to a hundred" times, he says.
At first he stayed overnight in a room upstairs. Then Aaron was given the room in the basement. "Downstairs in the basement room. It's right off of the bottom of the stairs, to the right, waterbed, TV."
It was there that Sandusky "would kiss me on the forehead goodnight. And then it -- it came to him kissing me on the cheek and then rubbing my back and pulling me on top of him and cracking my back.
"I kind of thought that he sees me as family and this is just what his family does."
Aaron Fisher attempted to have Jerry Sandusky arrested in November 2008.
His story is told in his book Silent No More, which we reviewed at length here.

-- Bill Keisling
Posted January 17, 2013
Related:
No Sanctuary: In a Pennsylvania county where a 7-year-old Russian boy recently died, officials and judges often ignore serious mental illnesses and don't heed the sound advice of doctors or psychologists

Keisling v. Renn: Ignored federal court complaint

Want to know more? Read these Yardbird bestsellers about Pennsylvania attorneys general:
The Sins of Our Fathers: Moments before shooting himself to death at a news comference, Pennsylvania Treasurer R. Budd Dwyer implicated the PA attorney general in a deadly bribery conspiracy. Two young writers investigate, and find dark secrets about their hometown. Read more >
The Sins of Our Fathers now available in Kindle ebook edition!
Buy now Kindle >
Or buy The Sins of Our Fathers paperback edition now!
Revised Second Edition
with a new afterword
169 pages, perfect bound
Just $15
---
The Midnight Ride of Jonathan Luna: A year and a half before the disappearance of Pennsylvania DA Ray Gricar, Baltimore federal drug prosecutor Jonathan Luna mysteriously vanished from his office in downtown Baltimore, turning up dead in a stream in Lancaster, PA, stabbed dozens of times... Is it just us, or does it seem like lots of prosecutors are going missing in Pennsylvania? Read more >

or Order from Amazon.com here >>
Buy now Kindle >
Buy now iPad >
Also on the Nook >
---
We All Fall Down A Chronicle of an Impeachment Foretold: "In We All Fall Down, writer William Keisling tells the story of the impeachment of Pennsylvania state Supreme Court Justice Rolf Larsen, a once-popular Pittsburgh jurist. Larsen is prosecuted by corrupt Pennsylvania Attorney General Ernie Preate, shortly before AG Preate's own conviction on federal mail fraud and corruption charges. Keisling's account suggests that Larsen's impeachment was a blemish on democracy that should concern all Americans. Keisling describes the breakdown of nearly every democratic institution in the state that cradled American democracy."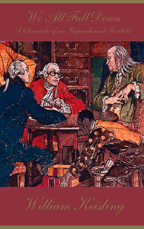 Cloth cover, Smyth bound, 336 pages.
$24.00
---
Copyright © 2013 yardbrd books
info@yardbird.com
blog comments powered by