Tom Corbett caught in spin cycle

What's the truth about Gov. Tom Corbett's
role in the Penn State - Jerry Sandusky case?
Don't ask Tom Corbett


Seeking to draw attention away from his scandalously bad performance as state attorney general, Tom Corbett last week chose to call attention to his shortcomings as Pennsylvania's governor.
Hours after the July 12 release of the Freeh Report on the Penn State-Jerry Sandusky scandal, reporters in Harrisburg asked Gov. Corbett about his two or three year delay in bringing the case to court while he was attorney general.
"Has it led you to ponder at all whether as attorney general you could have done anything different in your investigation to move faster or alert the public somehow?" asked a reporter for the Philadelphia Inquirer.
"Why are you all obsessed with that?" Corbett angrily shot back. He banged the podium with his finger. "It has been answered over and over and over!"
Corbett went on, "To continue to ask that question, quite honestly, is, in my mind, out of line."
But it's a question that's important to many Pennsylvanians. And it should be.


'That little boy in the shower'
Corbett's politicized "Bonusgate" distractions and his assigning of a single state trooper to the Sandusky case aren't the only issues that have been politically spun with revisionist intent by Corbett and his staff.
Corbett has also personally re-spun such issues as whether he, by mentioning a victimized little boy in the shower with Sandusky, buffaloed and stampeded the Penn State Board of Trustees into taking hasty action.
The controversy is whether Corbett frightened and bullied the Board of Trustees into a rush to judgment to fire Coach Joe Paterno and Penn State President Graham Spanier on November 9, 2011, in an effort to create scapegoats, smokescreens, and diversions from Corbett's own political foot-dragging and legal misbehavior.
Last January, I wrote:
"On November 9, 2011, Gov. Tom Corbett indulged the Penn State board of trustees, by telephone, to throw Joe Paterno under the bus. At the moment of the vote to fire Paterno, Corbett said over the speakerphone, 'Remember that little boy in the shower.'
"From the 31 trustees in the room there was no response. No question. No objection. Just silence. Despite the illustrious backgrounds of most of them, they all marched in lockstep, following Corbett's lead.
The obvious complaint against Corbett here (aside from blatant emotional manipulation of the trustees) is that Corbett himself had done little or nothing to help "that little boy."
It suggested the rank hypocrisy of a foot-dragging former-AG Corbett now scolding the trustees that they must do something.



Penn State Trustee Tom Corbett was shocked shocked! to see what was going on at Penn State!
By talking about a specific young victim of a specific horrific crime, the implication was that Corbett was intimidating trustees to vote his way, less dissenting trustees risk ignoring the lead of the former attorney general and sitting governor.
There was an uproar after others and I began writing about this.
Gov. Corbett and his spin doctors quickly denied he'd ever mentioned in such graphic detail a specific victimized child.
Corbett instead suggested that he merely, mildly, generically and harmlessly, told the trustees to "remember the children."
There is a profound emotional difference.
By mentioning a specific victimized child, Corbett was politically and/or legally manipulating the Board of Trustees to instantly and recklessly act in a case that Corbett himself for years had alternately ignored, stonewalled and politically manipulated.
Now Tom Corbett's shocked, shocked to see what's going on here!
Gov. Corbett, lo these many months, after all had been sitting on the Penn State Board of Trustees as silent and stone-faced as Buster Keaton or Cal Coolidge.
Corbett, after all, had taken campaign money from and doled state money to Sandusky's Second Mile Charity.
It's easy to see why trustees and others at Penn State and the Second Mile Charity may have come to believe that Sandusky had been given Corbett's seal of approval.
But now, by God, on November 9, 2011, Tom Corbett was demanding decisive, instant action from his fellow trustees.


'Remember that ten-year-old child'
A review of taped statements by Gov. Corbett shows his shifting political spin over the months concerning what he may have said over the speakerphone to the Board of Trustees about the sodomized child.
This video clip shows Corbett talking about the controversy on two separate occasions, three months apart, in November 2011, and then February 2012:
http://www.youtube.com/watch?v=TnNfGo5_tfk
On November 10, 2011, the day after Paterno and Spanier were fired, Corbett is asked by a reporter, "Did you actually weigh in with your disappointment to the board members before they had their meeting last night?"
Corbett replies, "I won't go into the deliberations of the board meeting last night. I sat and I listened. I will say that I reminded the board that we must remember that 10-year-old-child and the other children."
(This exchange comes about 8 minutes and 45 seconds into this tape of the press conference, also found here: http://videos.pennlive.com/patriot-news/2011/11/pennsylvania_governor_tom_corb_4.html)
Corbett in this first video specifically says, "I reminded the board that we must remember that 10-year-old-child."
He refers to a specific victim of a horrific criminal act.
After the uproar caused by trustees complaining that Corbett had actually said, "Remember that little boy in the shower," Corbett quickly changed his words.
In this video clip taped by WJAC-TV on February 8, 2012, -- one minute into the tape -- the interviewer and Corbett say:
Interviewer: "The governor does have a seat at the table for the Penn State trustees and Corbett says when they met in November to consider Paterno and Spanier's status, he was on the speaker phone and before the vote here's what he said:
Corbett: "The only thing I said was that you have to remember the children. That was it. I listened. This was their discussion. Because I, being the investigator, it's a little bit different. The only thing as I said was is they have to remember the children. People may have different memories, but I know exactly what I said."
Interviewer:"Corbett denies reports he said, 'Remember the boy in the shower,' referring to one of Sandusky's alleged victims."



'Like a lonely Maytag repairman, Trooper Scott Rossman quietly handled the case by himself for the first 18 months or so it languished in the AG's office'
At first blush, this perhaps might seem like a small difference, but, in this overheated story, it's not. It's a big deal.
It illustrates whether Corbett, as he spins it, was only playing a "small role" at the November 9 Board of Trustees meeting (which after all led to a student riot on campus).
Or, on the other hand, whether Corbett was acting as a Machiavellian Svengali to cover his own slow tracks when attorney general and to protect his own vulnerable political hide.
It goes to Corbett's credibility, staked against the credibility of trustees, and those writing about the trustees.
In an article written by Don Van Natta in ESPN Magazine, for example, posted on April 4, 2012, the writer expounds on this important and telling controversy.
Van Natta writes that (Corbett spokesman Kevin) "Harley had previously referred ... ESPN The Magazine to several recent local TV interviews in which Corbett explained what he described as the minor role he played in the trustees' deliberations regarding Paterno and Spanier.
"This was their discussion," Corbett said in a Feb. 8 interview with WJAC-TV. "The only thing I said is that they have to remember the children. People may have different memories, but I remember exactly what I said."
"'That is a bald-faced lie,' one trustee says,'" writes Van Natta.
So who's lying?
Corbett's November 10 taped statement bolsters this trustee's claim that Corbett is lying about the specifics of what he told the Board.
Someone here sure is lying. By writ of his own shifting words, it looks like it's the Governor of Pennsylvania.


Number of investigators and 'Bonusgate'
Aside from the crimes perpetrated by Sandusky, there is obvious broad concern about the extraordinary length of time it took -- more than a decade -- for state institutions to do anything to stop Sandusky.
The heart of the controversy involving Corbett is whether he ran the state attorney general's office not as a straight-shooting law enforcement officer, but as a calculating, double-talking and double-dealing politician.
Increasingly entangled in this controversy of his own making, Gov. Corbett The Politician has alternately tried to shift the blame and avoid the hard questions, even as he offers a revisionist campaign of political spin.
Corbett and his staff have sunk to bending or denying facts that they once openly joked about.
None of this is working very well for Gov. Tom Corbett. Or for Pennsylvania.
These bare facts are by now well known:
• AG Corbett for more than a year and a half assigned the bare minimum of a single state trooper to the Sandusky case. This allowed the investigation to languish while Corbett ran for governor.

• While he ignored Sandusky, Corbett instead assigned finite AG office resources into his grandiose and highly political "Bonusgate" prosecutions, which were the cornerstone of his political campaign for governor.
One of Corbett's political opponents convicted in "Bonusgate," former state Rep. Bill DeWeese, went so far as to complain this January that AG Corbett "had 14 prosecutors and agents tearing my life ... apart. He had one investigator on Jerry Sandusky."
Corbett spokesperson Kevin Harley wisecracked at the time, "Is (DeWeese) complaining or bragging?"
Corbett and his staff aren't laughing now.



King o' Sobby: Aside from the famous Lone Ranger -- or rather, lone state trooper -- Gov. Corbett now says he put another investigator on Jerry Sandusky's trail ...
At his angry July 12 press conference, Gov. Corbett now suggested that the number of investigators he assigned to the Sandusky investigation was three.
Gov. Corbett told reporters that he had, in addition to the now-famous Lone Ranger -- I mean the Lone State Trooper -- assigned AG Office Bureau of Narcotics Agent Anthony Sassano to the case, as well as Sassano's supervisor, Randy Feathers.
But this too is stretching and spinning the truth. Feathers is the supervisor of the narcotics bureau, and is Sassano's boss. As such Feather's involvement comes automatically with Narcotics Agent Sassano, who actually was the investigator.
During Sandusky's trial, Jessica Dershem, a caseworker with Clinton County Children and Youth, testified that Trooper Joe Cavanough told her and and staff psychologist Mike Gillum on December 12, 2008, that "he has enough evidence" at that early date to charge Sandusky with indecent assault. But the charges never came, for almost three years.
Trooper Cavanough early on was removed from the case, and eventually replaced months later, in June 2009, by Trooper Scott Rossman and nacotics agent Anthony Sassano. (See An insider's timeline of the Corbett/Sandusky/PSU scandal.)
Like a lonely Maytag repairman, Trooper Rossman quietly handled the case by himself for the first 18 months or so it languished in the AG's office. The investigation was so hobbled, the Freeh report suggests, that Penn State officials and trustees didn't take the investigation seriously, even when the university was finally subpoenaed for records, or when top school employees were brought before a grand jury.
For his part, AG's Office Bureau of Narcotics Agent Anthony Sassano came to the case in equally mysterious circumstances.
Among the serious questions left unanswered by Corbett is how and why Narcotics Agent Sassano came to be involved in the Sandusky investigation. (Internal labor agreements in the AG's office forbid using narcotics agents for investigations other than those involving narcotics.)
As well, the state police and AG's office agent's inability to early on file charges against Sandusky appears to stem from restrictions put in place by the elected AG's front office to politically control cases like Sandusky's.
"In the old days, agents and troopers ran the cases," I wrote in January. "They would consult with the deputy AGs mostly for matters like legal advice and warrants. For the most part, back then, investigators were in the driver's seat. They'd file charges, and the AG's office would follow through."
But, as I pointed out, starting around 2003, a new policy for criminal investigations required agents and troopers to consult closely with a deputy AG for what was called the direction, scope and flow of a case.



AG Office Bureau of Criminal Investigations (BCI) agents were tied up by gubernatorial candidate Tom Corbett: agents were assigned by Corbett to perform questionable tasks like this arrest by news conference
"Simply put, if a deputy AG was not allowed by superiors to push a case, or did not approve of its 'direction, scope or flow,' the case would go nowhere, no matter how many cops or investigators were put on the job."
AG narcotics bureau supervisor Randy Feathers, for his part, in a June 24, 2012 interview with the Altoona Mirror, is quoted as saying, "During the Bonusgate investigation, we had a shortage of investigators in Harrisburg."
As I wrote in January, AG Office Bureau of Criminal Investigations (BCI) agents were tied up by gubernatorial candidate Tom Corbett: these agents were assigned by Corbett to perform questionable tasks like "arrests by news conferences," and background checks on hundreds of potential "Bonusgate" jurors.


Undermines Freeh PSU Report
These tapes documenting what Gov. Corbett may or may not have said to the PSU Board of Trustees also serves to undermine the credibility of former FBI Director Louis Freeh's report, paid for by Penn State.
On page 99 of the report, Freeh discusses interviewing confused trustees about what Corbett might have told the Board of Trustees on November 9.
Freeh and his team, paid $6.5 million (or was that $8.1 million?) by the state-funded school for this purposefully limited "report," never reviewed Corbett's own statements on tape.
Freeh was instructed to only investigate Penn State personnel and trustees. But isn't Corbett a trustee? Constraints put on Freeh raise questions that themselves deserve an investigation.
From the report (page 99), (the only mention, by the way, of Corbett in the entire Freeh Report):
"The Trustees have differing recollections of Governor Thomas Corbett's role in the Board discussion. Some Trustees recall people asking if the Governor was still on the phone line, as he was quiet during parts of the call. Some Trustees, including Corbett himself, said Corbett did not assert himself more than other Trustees. At least one said Surma gave Corbett the opportunity to do so. Some Trustees recall Corbett saying something right before the vote on Paterno along the lines of "I hope you'll remember the children." Others described him as being vocal and playing a leadership role in the meeting."
For six-and-a-half million, why didn't Freeh do a more thorough job and interrogate Trustee Corbett?
What else has Freeh ignored or turned a blind eye to?
And what else about Tom Corbett?


'Out of line'
As we see, political spin has been injected into this sad affair, due to the conflicts of interest involving Corbett as both a politician and the state's chief law enforcement officer.
Is this what Pennsylvanians want in their governor's office, or in their law enforcement offices?
And the question yet remains and begs further exploration of whether Corbett learned about the Sandusky matter as part of whatever inadequate investigation was made of the disappearance and likely murder in 2005 of Centre County District Attorney Ray Gricar. Gricar was in charge of an earlier Sandusky investigation and, a few days before his disappearance, had appeared with Corbett at a press conference about a narcotics prosecution.
At the heart of the growing Corbett-Sandusky scandal is whether the offices of the Pennsylvania Attorney General and the Governor have finally been so perverted by politics and political contributions that children for years were allowed to be raped for political gain.
Politician Tom Corbett made several Faustian bargains, and now he's paying the devil.
Troubled Tom Corbett, ensnared in a growing scandal of his own making, is out of line to suggest these questions should not be raised.


-- Bill Keisling IV
Posted July 21, 2012
Related:

Timeline: An insider's timeline of the Sandusky/PSU/Corbett scandal
'JoePA' takes the fall: A slow Tom Corbett throws Joe Paterno under the bus
The Magic Moment: Six decades of Pennsylvania governors, AGs, and the Pennsylvania Republican Party - Part 1 1950 to 1980
The Magic Moment Part 2: The Elected Years 1980 to 1995

PA Attorney General Tom Corbett was obstacle preventing 'VIP' sex ring investigation
Pennsylvania DA Tom Kearney asks FBI to investigate Corbett security contractor
Video: York lawyer Larry Heim boasts of courthouse pedophile ring
Jerry Sandusky Grand Jury report
Sandusky discovery motion filed 2-6-12 pdf >
Another drug prosecutor vanishes on a Pennsylvania car ride
Authorities say they're not serious about investigating the
disappearance of DA Ray Gricar
Pennsylvania DAs plan meeting to discuss Gricar, Luna disappearances
DA Ray Gricar's laptop is found in area previously extensively searched
Police: Gricar's hard drive found
Bubba Takes the Fall: Missing county sofa found in DA's basement
York County has long history of harming kids
Depostion of Det. Jeffrey Martz
Pennsylvania State Police launch investigation into PA Turnpike security provider
PA Turnpike security contractor seeks federal injunction to ban Luna book
Wantz dropped from PA House hearing on private investigators
External links:
Penn State source says no indication dismissal was related to steroids >
Video: Nike's Phil Knight pays tribute to Joe Paterno January 26, 2012 >
Sex bust nabs state security contractor -- ABC News
Want to know more? Read these Yardbird bestsellers about Pennsylvania attorneys general:
The Sins of Our Fathers: Moments before shooting himself to death at a news comference, Pennsylvania Treasurer R. Budd Dwyer implicated the PA attorney general in a deadly bribery conspiracy. Two young writers investigate, and find dark secrets about their hometown. Read more >
The Sins of Our Fathers now available in Kindle ebook edition!
Buy now Kindle >
Or buy The Sins of Our Fathers paperback edition now!
Revised Second Edition
with a new afterword
169 pages, perfect bound
Just $15
---
The Midnight Ride of Jonathan Luna: A year and a half before the disappearance of Pennsylvania DA Ray Gricar, Baltimore federal drug prosecutor Jonathan Luna mysteriously vanished from his office in downtown Baltimore, turning up dead in a stream in Lancaster, PA, stabbed dozens of times... Is it just us, or does it seem like lots of prosecutors are going missing in Pennsylvania? Read more >

or Order from Amazon.com here >>
Buy now Kindle >
Buy now iPad >
Also on the Nook >
---
We All Fall Down A Chronicle of an Impeachment Foretold: "In We All Fall Down, writer William Keisling tells the story of the impeachment of Pennsylvania state Supreme Court Justice Rolf Larsen, a once-popular Pittsburgh jurist. Larsen is prosecuted by corrupt Pennsylvania Attorney General Ernie Preate, shortly before AG Preate's own conviction on federal mail fraud and corruption charges. Keisling's account suggests that Larsen's impeachment was a blemish on democracy that should concern all Americans. Keisling describes the breakdown of nearly every democratic institution in the state that cradled American democracy."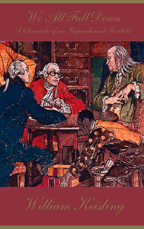 Cloth cover, Smyth bound, 336 pages.
$24.00
---
Copyright © 2012 yardbrd books
info@yardbird.com
blog comments powered by