Pennsylvania child welfare officials and Second Mile charity
protected Jerry Sandusky, not kids
Pennsylvania child welfare agencies close to Sandusky and Second Mile
have yet to be thoroughly investigated

That should change
Among the lingering questions in the Jerry Sandusky case is whether Sandusky founded the Second Mile charity with an eye toward using the organization to lure and abuse young boys.
Tantalizing insights into this subject were raised during Sandusky's 2012 trial, but were never considered by the jury, nor directly recorded in the trial transcripts.
Before the trial, Sandusky's defenders pointed out that the earliest suspected cases of abuse involving the former football coach occurred around 1995, when Sandusky was in his 50s, and more than a decade and a half after Sandusky formed the Second Mile.

It's rare for pedophiles to start so late in life, the argument goes. (This argument in fact was made in 1998, by a state DPW investigator, to clear Sandusky of suspicions raised by one of the victim's mother.)
This defense shattered in the middle of Sandusky's 2012 trial, when the coach's adopted son, Matt, contacted police with startling information.
At the outset of the trial Matt Sandusky planned to assist his father's defense. Matt helped to carry the defense team's mounds of boxes and documents into the courthouse at the start of trial, and did other grunt work. In the courtroom Matt had a seat close to the defense table.
As he sat in the courtroom listening to one of the victims, something shattered in Matt Sandusky. He had a change of heart.
A few days in to the trial, Matt called the attorney general's office to offer a starting insight: his adoptive father had abused him for years in the 1980s, much closer to the time Sandusky founded Second Mile.
Matt was quickly interviewed by state police detectives, who recorded a 29-minute tape with him on June 15, 2012.
Matt Sandusky would tell cops his foster father abused him as early as 1986, when Sandusky was only about 40 years old.
Matt said he was for years molested in the showers at Penn State, and in Sandusky's home, while wrestling, and in bed.
All this would have a profound impact at Sandusky's trial, even though jurors would never hear Matt's confession to detectives.
To prevent Matt from testifying before the jury, Jerry Sandusky was forced not to take the stand in his own defense.
On June 20, in the chambers of Judge John Cleland, Sandusky's lawyer, Joe Amendola, explained that he had been contacted by prosecutors on Friday, June 15. The state had been about to rest its case, but suddenly prosecutors were asking the court for permission to keep the case open, pending an ongoing investigation.
The prosecutors, Amendola said, "Contacted me by phone somewhere, I believe it was 8:00 or 8:30 p.m., and advised me that Matt Sandusky, Jerry Sandusky's son, had approached them, had interviewed with them, and made a statement that his father had abused him and that they potentially intended to use this testimony, this evidence at trial.
"Now, up until that time, Your Honor, Mr. Sandusky had always wanted to testify on his own behalf. He always wanted to tell people his side to the allegations in this case. However, that potential evidence, whether true or not, was so devastating and so is -- I think (prosecutor Frank) Fina has used the term in the past so nuclear to his defense, from that point on we were very concerned whether or not Mr. Sandusky could testify.
"Mr. Fina later narrowed the scope of that potential damage by indicating to me that the Commonwealth would agree not to call Matt Sandusky in its case in chief but reserved the right to call him as a rebuttal witness should evidence come out at trial that would allow him to testify and more specifically, obviously, if Mr. Sandusky testified at trial, which still left us with a grave concern."
"...Our position on the Matt Sandusky development coming literally at the close of the Commonwealth's case basically took the heart out of our defense, because our defense was going to be Mr. Sandusky testifying.
"Today, after we called our last fact and character witness, the Court gave us time to consult with Mr. Sandusky as to whether or not he wanted to testify with all this information before him, and he decided that he did not want to testify for the reasons I have set forth."
With that, Sandusky's lawyers also unsuccessfully sought a mistrial due to this issue, arguing that Matt's unexpected conversion to a prosecution witness had destroyed their defense plan.
Prosecutor Fina told the judge, "The fact, Your Honor, that the defense had a strategy or theory that involved a potential witness and that that potential witness it turned out was going to say something different than they suspected is a consequence of advocacy and the legal proceedings. It's not a basis for a mistrial."
Judge Cleland agreed with prosecutors, and denied the motion for mistrial.
In any event, neither Jerry nor Matt Sandusky would testify at trial.
Aside from the impact of Matt's story on the trial, Matt's information sheds light on Sandusky's behavior going back to when the coach was a much younger man.
Matt's story raised the relevance of the question: was Jerry Sandusky himself sexually abused as a young man or boy?
Sandusky was raised around a recreation and sports center, called the Brownson House, in Washington, PA, south of Pittsburgh.
His late parents ran the rec center. Sandusky is remembered as a shy young teenager, popular and athletic, but keeping to himself.
Speculation increased that Sandusky himself may have been secretly abused as a boy, or a teenager, at his parents' recreation center.
This in turn begged the question: did Jerry Sandusky start the Second Mile, and ingratiate himself with Pennsylvania child welfare officials, in order to abuse young boys?


After Jerry Sandusky finally was arrested and brought to court, it would seem obvious that the former coach had been building a playground in the basement of his house to lure boys.
Sandusky stocked his basement game room with a pool table, shuffleboard, air hockey and other delights sure to please any ten-year-old.
Sandusky no doubt was a pied piper of children.
Less understood is that Jerry Sandusky was also a pied piper of adults, and adult institutions.
Sandusky founded the Second Mile some 20 years before he was first caught in the shower with a boy, in 1977. He used the proceeds from his football book Developing Linebackers as seed money, and cajoled others in the Penn State community to contribute. He organized "celebrity" golf tournaments that soon would become annual events.
In 1981 the Second Mile charity used the resulting $64,000 he'd scraped together to purchase a two-story house on twenty acres of land on Bernal Road, not far from Beaver Stadium. The plan, on the surface, at least, was to turn the house and grounds into a foster home.
The next year, in 1982, the Commonwealth of Pennsylvania licensed the Second Mile as a foster care agency. By October 1982, three foster kids -- all boys -- would be living in the house.
Sandusky by 1998 helped build a playground for adults, both with the powerhouse college football team at Penn State, and his Second Mile charity.
From its small beginning in the late 1970s, started with the proceeds of his football book, Sandusky by 1998 had cannily built the Second Mile into a fast-growing charity with taproots and tentacles reaching far into the State College community, and deeply into all of Pennsylvania.
Tax and other public records show that the charity by 1998 enjoyed revenues of a little more than $1 million, and assets equaling that amount.
But those numbers don't tell the full story.
Gifts of money from well-heeled Second Mile board members, volunteers and well-wishers, and the unfettered use of the first-class facilities at Penn State, inestimably added to the charity's resources, and reach.
Second Mile in 1998 boasted various programs involving hundreds of thousands of kids -- 11,192 in Centre County alone, and hundreds (or thousands) more in every county in the state.
"Between September 1997 and August 1998," the charity's 1998 Annual Report summarizes, "The Second Mile provided 3,204 young people and/or their families with community-based or early intervention services and 213,730 youth with prevention services."
The number of children "touched" that year by the charity included 535 kids who attended Second Mile's overnight "Summer Challenge Camps" at Penn State's main campus.
For years Coach Sandusky not only was involved with young boys on campus at Second Mile events. He also was a fixture at athletic camps sponsored by Penn State University.
It would become increasingly difficult, over time, to differentiate Second Mile from Penn State.
For example, Sandusky for years was a star at young athlete football camps sponsored by the university athletic department on Penn State's main campus. There would be other overnight athletic camps on Penn State satellite campuses in faraway places like Reading, PA.
One university-affiliated camp, Linebacker U, "promised that those of us attending would receive hands-on tutelage from the Lion's varsity coaching staff, including none other than head coach Joe Paterno and defensive coordinator Jerry Sandusky," one participant of the 1990 program remembers.
"Paterno showed up on the practice field only once during camp, delivered an unmemorable speech, and we never saw him again. But Sandusky didn't disappoint.
"Sandusky immediately stood out with his booming voice and obvious passion for the game. He had this bigger-than-life persona, and a smile almost as big that you could spot from across the practice fields.
"This was the man who had built Penn State's reputation as a defensive powerhouse with guys like Shane Conlan, Andre Collins and Walker Lee Ashley. On the field, Sandusky was clearly the leader of the program, and the rest of the coaches invariably deferred to his authority. He was a living, breathing football God.
"...Even back then, with extremely limited exposure to the man, I can recall being in awe of Sandusky. Hell, most of us just wanted to be near the guy, to soak up as much football knowledge as we possibly could during our minimal time in his presence."


Money pump, with Jerry at the spigot
It was not only the kids who wanted to be close to Jerry Sandusky.
The Second Mile over the decades became an ever-more important business hub in town and gown State College, and wider Pennsylvania. The charity became a money pump, with Jerry at the spigot.
Over the decades Sandusky successfully tied together his high-profile career on the championship football team to Penn State's facilities and its imprimatur.
In the 1980s and '90s Sandusky set about knitting his Second Mile charity into the growing knot of conflicted interests.
Second Mile, tied as it was into the Penn State business and social scene, became a popular charity for established and up-and-coming professionals in State College, and beyond.
Everyone, it seemed, wanted association with "Jerry" and the "wonderful work" he was doing with Pennsylvania's young people.
By 1998 Second Mile was raising money by organizing high-profile "celebrity" golf tournaments not only in State College, but also in Harrisburg, Chester County, Hazelton and York. Businessmen and social leaders from around the state, and beyond, would come out to play a round with a celebrity sports figure. (The 1998 State College golf tournament alone raised $220,000 on $335,000 in revenues).
That same year there were also awards banquets in State College, Harrisburg, and Clearfield, and an art auction. All told, in 1998, some $428,000 would be raised on nearly $660,000 in revenues.
The Second Mile's board by 1998 reflected the charity's growing status, clout and connections. It was composed of movers and shakers from business, the university, and government.
The board of directors in 1998 was stocked with socially savvy lawyers, financial planners, professors, a prominent lobbyist, real estate agents, and even Lou Heldman, the publisher of the local newspaper, the CDT, Centre Daily Times. (The Harrisburg Patriot-News would donate more than $2,000 to The Second Mile in 2010.)
People like this presumably knew the difference between good and bad, and good and bad publicity.
Even so, financially perplexing or outright incestuous relationships in Second Mile were beginning to show.
The charity's 1998 tax return noted, for example, that, "the Second Mile leases its main office location from a real estate entity in which a director is a principal. The rental agreement is for less than market rental rates in the State College, Pa area. The Second Mile pays approximately $8.00 a square foot, which includes all heat, electricity, taxes, maintenance and repairs. This same director also donates to the Second Mile his share of the rental each month in cash. The total rental expense is $1,430 per month including all of the aforementioned utilities and services."
The charity, it should go without saying, enjoyed tax-exempt status. Its 1998 tax return listed a total of $1.4 million in gifts, grants and contributions for the years 1993 to 1996.
This was in addition to the proceeds from the golf tournaments, banquets, and art auctions.
By 2011 the Second Mile would have an annual budget of $2.4 million, and about $9 million in the bank.
As well, Gov. Tom Corbett in 2011 agreed to give the Second Mile a state grant of $3 million toward the charity's planned "Second Mile Center for Excellence."
A construction company headed by the Second Mile's CEO, Robert Poole, received the contract to serve as construction manager of the project.
Kids, clearly, weren't the only thing on everyone's mind.


Children and Youth: A wall of protection for Jerry, not kids
In its tax returns, Second Mile would list its mission simply as, "Children & Youth."
All these community leaders involved with Second Mile could not suspect, nor would they want to suspect, that Sandusky perhaps had started it all, among other benevolent reasons, so that he could sexually molest a fresh supply and steady stream of young boys.
This was perhaps the second-most diabolical part of Sandusky's long-running crime spree.
In knitting together his cozy and well-connected network of prominent university, business and community leaders, Jerry Sandusky, wittingly or not, built a thick and nearly impenetrable wall of protection around him.
Who would suspect, or want to suspect, that all these good and well-meaning community leaders were in reality sending thousands of helpless children to Penn State's main campus to be picked out and sexually molested under everyone's noses by Jerry Sandusky?
Years later, in his opening statement at Sandusky's 2012 trial, Pennsylvania attorney general prosecutor Joe McGettigan would tell jurors, "The Second Mile, no matter what it's reported purpose, was a victim factory for the defendant, an assembly line for adolescent children to be abused, sodomized, and anally raped."
What prosecutor McGettigan neglected to mention was this: The Second Mile may have been an assembly line, but the parts suppliers, incredibly, included the state's children and youth agencies, and school guidance counselors.
The Second Mile may have been an assembly line, but its showroom and front office was aided, abetted, and even staffed by an unknown number of officials and contractors at Penn State, the Pennsylvania Department of Public Welfare, and prosecutor McGettigan's own attorney general's office.
To run its programs for its stated mission -- "Children & Youth" -- the Second Mile, and Jerry Sandusky, needed, well, children and youth.
In a subterfuge Dickens himself would dare not write, county children and youth agencies and officers throughout Pennsylvania, as well as school guidance counselors, were enlisted to refer and send kids to the Second Mile, and Sandusky.
All these children and youth officers and guidance counselors would, over the coming decades, pack off thousands of unsuspecting kids to Sandusky's summer overnight camps and programs, like the Summer Challenge Camp.
For decades, these hundreds of children and youth officials and school guidance counselors failed to realize that they were in fact supplying victims to a child molester.
Think about it: Your job is to protect and help kids. You naturally are not particularly keen nor are you eager to have it widely advertised or known that you instead for decades actively went out of your way to turn kids over to a child predator.
This too for a long time would work in Sandusky's favor.
The depth and diabolical nature of his crime would help make it increasingly difficult to believe, and so to stop.
The Second Mile's -- and Sandusky's -- unholy connections to CYS agencies and officials didn't stop with county children and youth offices.
Sandusky and the Second Mile for decades enjoyed and benefited from close connections with state officials within the state attorney general's office, the Pennsylvania Department of State, and the Department of Public Welfare in Harrisburg.
As a charity, the Second Mile was registered with the Department of State.
But the real job of policing and investigating charities like the Second Mile fell to the state attorney general's office Charitable Trusts and Organizations Section.
That office in recent years would also fail to adequately ferret out trouble in other state charities involving kids, like the Hershey Trust.
The Pennsylvania Department of Public Welfare, like the AG's office, not only failed to protect kids in the Sandusky and Hershey Trust cases, but also failed its mission in the long-running Luzerne County court's Cash for Kids scandal, where some 6,500 kids for years were sold down the river to private detention facilities whose owners had bribed county judges.
The Sandusky, Hershey Trust, and Luzerne County Cash for Kids scandals all have this in common: kids in Pennsylvania had been reduced to commodities.
The Commonwealth of Pennsylvania since the early 1980s licensed the Second Mile's stand-alone foster home on Bernal Road in State College.
Over the years Sandusky and his wife Dottie personally were approved to adopt six kids, and to serve as a foster parent, activities which by law ultimately are overseen by the state.
As the ties of these regulatory agencies to the Sanduskys grew closer, the ties between the agencies and to the kids they were meant to protect grew ever more distant and abstract.
These ties between Second Mile and the regulators didn't stop with the Sanduskys.
By 1998, Second Mile's fulltime executive director and president, Jack Raykovitz, earned a $76,000 salary from the charity. By 2011, Raykovitz would be making a salary of $132,000. His wife, Katherine Genovese, would be making more than $100,000.
Raykovitz was a licensed child psychologist who at the same time held a side contract with Centre County's Children and Youth agency to conduct examinations of children.
Raykovitz was working for and advising both the regulated and the regulators.
The DPW and CYS regulators have yet to be called to account for any of this.
That should change.
-- Bill Keisling
Posted January 26, 2013
Related:
No Sanctuary: In a Pennsylvania county where a 7-year-old Russian boy recently died, officials and judges often ignore serious mental illnesses and don't heed the sound advice of doctors or psychologists

Keisling v. Renn: Ignored federal court complaint

Want to know more? Read these Yardbird bestsellers about Pennsylvania attorneys general:
The Sins of Our Fathers: Moments before shooting himself to death at a news comference, Pennsylvania Treasurer R. Budd Dwyer implicated the PA attorney general in a deadly bribery conspiracy. Two young writers investigate, and find dark secrets about their hometown. Read more >
The Sins of Our Fathers now available in Kindle ebook edition!
Buy now Kindle >
Or buy The Sins of Our Fathers paperback edition now!
Revised Second Edition
with a new afterword
169 pages, perfect bound
Just $15
---
The Midnight Ride of Jonathan Luna: A year and a half before the disappearance of Pennsylvania DA Ray Gricar, Baltimore federal drug prosecutor Jonathan Luna mysteriously vanished from his office in downtown Baltimore, turning up dead in a stream in Lancaster, PA, stabbed dozens of times... Is it just us, or does it seem like lots of prosecutors are going missing in Pennsylvania? Read more >

or Order from Amazon.com here >>
Buy now Kindle >
Buy now iPad >
Also on the Nook >
---
We All Fall Down A Chronicle of an Impeachment Foretold: "In We All Fall Down, writer William Keisling tells the story of the impeachment of Pennsylvania state Supreme Court Justice Rolf Larsen, a once-popular Pittsburgh jurist. Larsen is prosecuted by corrupt Pennsylvania Attorney General Ernie Preate, shortly before AG Preate's own conviction on federal mail fraud and corruption charges. Keisling's account suggests that Larsen's impeachment was a blemish on democracy that should concern all Americans. Keisling describes the breakdown of nearly every democratic institution in the state that cradled American democracy."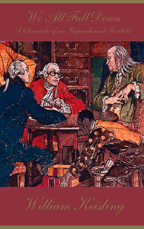 Cloth cover, Smyth bound, 336 pages.
$24.00
---
Copyright © 2013 yardbrd books
info@yardbird.com
blog comments powered by