Old boys gone wild
Clery Act:
The enemy within

Can the Clery Act ensure safety on campus?

Federal law proves no match for Pennsylvania's old-boy network
in the Sandusky / PSU / Corbett scandal
'The Sandusky case demonstrates that sometimes the mad man on campus may not be a deranged loner toting a gun.
The mad man may be a respected and well-connected campus icon,
not hiding behind a gun, but shielded by a protective phalanx of complicit public and school officials.'

In December 2011 students at Virginia Tech in Blacksburg, Virginia, saw this grimly worded text flash across their phones and computers:
"From VT Alerts (12:37 p.m.): Gun shots reported - Coliseum Parking lot. Stay inside. Secure doors. Emergency personnel responding. Call 911 for help."
Ten minutes later, while a deranged gunman stalked their campus, students received this message:
"Suspect described as white male, gray sweat pants, gray hat w/neon green brim, maroon hoodie and backpack. On foot towards McComas. Call 911."
It would turn out a gunman randomly shot and killed a campus police officer before turning the gun on himself.
This incident, as bad as it was, was not nearly as bad as what happened at Virginia Tech four years earlier.
On April 16, 2007, a mentally ill student shot up a dorm, then wrapped chains around the doors of a classroom building. Armed with two guns, he systematically killed 32 people and wounded 17 more.
Some two hours after the 2007 event began, students received only a vague warning mentioning a "shooting incident" on campus, but with no mention of deaths.
The alerts received by students at Virginia Tech in 2011 came sooner, and were far more informative and useful, than those in 2007.
Even so, whether students on campuses today are any safer from crime on campus is debatable.


A federal law, called the Clery Act, is behind these well-meaning campus crime alerts.
The law springs from a murder on a Pennsylvania campus in 1986.
More than a quarter century later, another crime spree on a different Pennsylvania campus raises questions about the effectiveness of the Clery Act, and whether students can ever expect to be fully informed about serious dangers and crimes on campus.
The Jerry Sandusky scandal at Penn State, running unreported and unprosecuted in Pennsylvania for more than a decade, poses the greatest challenge yet to campus safety reporting laws.
The Sandusky case illustrates the limitations of alerting students to crimes -- even the vilest of crimes, committed over decades.
It turns out that it's much easier to report a madman on the loose on campus with a gun than it is to report that a trusted football coach is in a shower room, serially raping young boys.


Too little, too late?
Feds announce Clery Act inquiry at Penn State

In the best of all possible worlds, on the face of it, the federal Clery Act is a well-reasoned, and a reasonable law.
Simply stated, the Clery Act requires universities receiving federal student loan grants to report campus crime.
Among other requirements, a school must file both an annual report of campus crime statistics, and issue timely warnings of immediate threats, as was done in December 2011 at Virginia Tech.
The intent of the law, of course, is to alert students, parents and the campus community of crime problems.
But Pennsylvania these days can hardly be described as the best of all possible worlds.
Pennsylvania is a place where, well, a socially and politically well-connected football coach was inexplicably allowed to rape children in a college shower room and other places for more than a decade.
It would turn out that not only campus administrators, but state and local prosecutors, as well as the Pennsylvania Department of Public Welfare, for years had known about problems, or reasonably should have known about problems involving Sandusky, but, for various reasons, did nothing to stop him.
Jerry Sandusky's social and political spheres of influence stretched far beyond the ivy towers of Penn State.
He was part of an extensive old-boy network.
(The use of the term "old-boy network" is appropriate in this context. The term originates in academia. Wikipedia, for example, defines old-boy network as "social and business connections among former pupils of male-only private schools. British public school students were traditionally called 'boys,' thus graduated students are 'old boys.' This can apply to the network between the graduates of a single school, also known as an old boy society and similar to an alumni association. It can also mean a network of social and business connections among the alumni of various prestigious schools. In popular language, old boy network or old boy society has come to be used in reference to the preservation of social elites in general.")

What was the reach of Sandusky's old-boy network? In Pennsylvania it went all the way to the top of state government.
The governor of Pennsylvania, Tom Corbett, took political contributions from board members of Sandusky's well-endowed charity, the Second Mile, at the same time then-Attorney General Corbett refused to prosecute Sandusky. Gov. Corbett also approved millions in state grant money back to the charity.
Corbett, as attorney general, had his eye on the governor's office, and not Jerry Sandusky.
As a result of obvious problems in the Sandusky case, Penn State is now under investigation by the U.S. Department of Education for alleged Clery Act violations.
Unfortunately, though Sandusky's tentacles stretched far beyond Penn State, and the length of his crime spree clearly was enabled by the inaction of top-ranking state and local officials outside of Penn State, the Education Department's investigation seems likely to stop at the university gates.
Caught flat-footed and clearly embarrassed by the scandal, U.S. Department of Education officials appear unlikely to consider all the causes of the problem beyond, and intertwining, with the school.
That itself is a scandal, and is wrong, for a variety of reasons.


Background:
A history of the Clery Act
The Clery Act has met its toughest real-world test yet in the strained circumstances of the Jerry Sandusky case at University Park, Pennsylvania.
The sad truth is, despite its best intentions, the Clery Act did nothing to make anyone safer at Penn State.
No text alert message ever went out advising students, "Uncle Jerry's been spotted in the shower again with another boy. Exercise caution in the Lasch Building shower room."
In reality, a text like that would never go out.


The Clery Act's shortcomings in the long-running Pennsylvania Sandusky case are all the more ironic when you consider that the law has its roots in Pennsylvania.
The act is named for Jeanne Ann Clery, a 19-year-old freshman at Lehigh University, in Bethlehem, Pennsylvania.



---

A Pennsylvania story: Jeanne Clery was brutally murdered at Lehigh University in Bethlehem, Pennsylvania in 1986

---
Jeanne Clery was brutally raped, tortured and murdered in her residence hall at Lehigh on April 5, 1986.
Clery's parents discovered after her murder that Lehigh students hadn't been informed of 38 violent crimes committed on the Lehigh campus leading up to Jeanne's death.
Had Jeanne Clery known of the dangers, the reasoning goes, she may have taken precautions that might have saved her life.
Hoping to help other students, Jeanne Clery's parents, Howard and Connie Clery, founded Security on Campus, Inc., a non-profit organization dedicated to preventing violent campus crimes.
They became activists and tirelessly lobbied for a campus crime reporting law.
But, even at the time, some questioned whether such a law could be effective, particularly when dealing with "sensitive" sex crimes. Critics pointed out that rape, and date rape, were endemic on campuses in the late 1980s.
Sexual crimes, for a variety of reasons, are notoriously among the hardest of all crimes to report, and prosecute.
How could a mandatory reporting law, no matter how well intentioned, change these facts of life? some wondered.
A Towson State (Maryland) University survey conducted in the 1980s indicated, for example, that only 8.4 percent of on-campus sexual assaults resulted in criminal prosecutions.
Gail Abarbanel, director of the Rape Treatment Center at Santa Monica Hospital, told the Los Angeles Times in 1989 that rape "remains 'the hidden secret' among college students as most victims are reluctant to get involved in the criminal justice system. The statistics lie, she says, because 'the crime really has been run underground.'"
While victims of sexual crimes must be encouraged to come forward, the problems obviously run deeper: victims of sexual assault historically have been stigmatized.
There's also a long-running cultural and bureaucratic reluctance to view "sexual harassment" as criminal activity (old boys, after all, write the laws).
As we've seen in the Catholic Church, and more recently at Penn State, there's also a strong bureaucratic tendency to protect old-boy network perpetrators of sex crimes from serious criminal investigation.
As at Penn State, there's often an "off the campus" component to church sex crimes: a priest caught abusing students commonly was moved out of sight, to a different parish or school.
And, to state the obvious: If an incident is not viewed or reported as a crime, no alert or crime statistics can be issued.


Nevertheless, thanks to the Clerys' efforts, the Campus Security Act was introduced in the 101st Congress by two Pennsylvania lawmakers. It was modeled after a Pennsylvania state law.
Rep. Bill Goodling of York, PA, sponsored the enabling legislation, U.S. House of Representatives Bill 3344, while Pennsylvania Sen. Arlen Specter sponsored its senate counterpart, Senate Bill 1925.
At the time, Congressman Goodling stated the purpose of the bill was "to assist students in making decisions which affect their personal safety..." and "to make sure institutions of higher education provide students, prospective students and faculty the information they need to avoid becoming the victims of campus crime."
President George Herbert Walker Bush signed the Act into law on November 8, 1990.
In 1992 Congress amended the Campus Security Act to include previously undisclosable records associated with sexual assault. A University of California Clery Act Overview explains the 1992 changes to the law:

Congress amended the Campus Security Act of 1992 in two substantive way. It first excluded campus law enforcement records from coverage under the Family Educational Rights and Privacy Act of 1974 ("FERPA"), meaning that law enforcement records are not protected from disclosure on privacy grounds as "educational records." This amendment also provided that disclosure of the outcome of campus disciplinary proceedings concerning sexual assault to the victim and accused is not a violation of FERPA. The other substantive amendment incorporated the "Campus Sexual Assault Victims' Bill of Rights," which requires campus security policies to specifically address sex offense prevention and specifies procedures that must be included in a campus disciplinary proceeding. These laws became effective September 1, 1992, and the Department of Education enacted final regulations implementing the Campus Security Act, as amended, on April 29, 1994. (Emphasis mine.)
So alerting a campus community to sexual crimes, and allegations of crimes of a sexual nature, early on were at the heart of the intent of the Clery Act, and its amendments.
But something obviously went terribly wrong with the Clery Act as it relates to the reporting of sex crimes in the Penn State shower room with Jerry Sandusky, from at least 1998 to the present.
What went wrong?
And can the Clery Act be fixed?


Clery Act evolution
Over the years the Clery Act has evolved, often for very real-world, practical reasons.
Clery was further amended several times in the late 1990s and the 2000s. (The current text of the Clery Act, as amended through 2008, can be viewed here.)
Whether Clery can continue to evolve in the face of its obvious shortcomings in the Sandusky case, and similar old-boy network sex cases, will be the real-world test of the act, its administrators, and backers.
S. Daniel Carter, of the VTV Family Outreach Foundation, says he believes the U.S. Department of Education will conduct a thorough investigation of Clery violations at Penn State, and that lessons learned from the Sandusky case can help Clery evolve.



---

School of hard knocks: Is the U.S. Department of Education up to the task of enforcing Clery? Or will political old boys continue to protect political old boys?

---
Carter is one of the nation's leading experts on campus crime.
He's spent much of his adult life, since his studies at the University of Tennessee in the 1980s, working on campus crime legislation, including work with the Clerys on the Clery Act.
Carter was hailed on the floor of Congress as "probably the leading person in this nation in advocating more action and tougher action against crimes that are committed on campus."
By telephone, Carter told me that his interest in the subject began with the 1988 murder of student Tommy Baer on the University of Tennessee campus.
Carter went on to work with Frank Carrington, of the non-profit Crime Victim's Litigation Project of the National Victim Center, until Carrington's untimely and tragic death in a house fire in 1992.
So Carter has personal insight and knowledge of the legislative history of Clery, and other campus crime laws.
He explains that Clery has evolved with the great technological changes of our time.
"When the Clery Act became law in August 1991," Carter recalls, "at the time campus crime warnings were issued on flyers."
"Then, in 1995-96," Carter recounts, "emails were used" to issue campus crime alerts. This was followed, only a few years later, by MMS texts, web alerts, and today's ubiquitous tweets.
This "front end" of the Clery alert system -- the technology carrying the timely alerts -- is the part of Clery that has evolved with our changing times.
The "back end" of the system -- that is, how incidents are adjudicated as crimes and reported -- is what obviously failed for years at Penn State, and has not much changed over the years.
The age-old problem, of course, remains that in Pennsylvania, as elsewhere, sexual assaults have been covered-up, and not reported as crimes.
Politically connected old boys like Jerry Sandusky have been protected -- by the old-boy network.
It's this protective and extensive insiders' old-boy network in Pennsylvania -- creeping as it does all the way up to the attorney general and governor's offices -- that obviously was an important part of the failure of the Clery Act.


GIGO: Garbage In, Garbage Out
One of the most effective and influential evangelists of the stunning technological evolution of Clery has been Ara Bagdasarian, founder of the campus alert company e2Campus.
It was Bagdasarian's company that hosted and issued the timely and clear alerts in 2011 Virginia Tech shooting incident.
e2campus has signed up hundreds of colleges and institutions to its high-tech alert services. Clients these days include not only Virginia Tech, but also Penn State and Lehigh, where Jeanne Clery was murdered.
"We started in 2004," Bagdasarian tells me. "I read the story of Gene Clery online, and I had an epiphany."
Why, he says he asked himself, in this age of instant messaging and texts, were colleges still relying on printed flyers, bulletin boards and emails to issue safety alerts to students?



---

A campus warning text never sent, and never received ...

---
Bagdasarian's website explains that he realized "there must be a better way to communicate with the campus community. Since most students carry mobile phones, we can alert them via text messages."
"My first call was to the executive director of Security on Campus," (the organization founded by the Clerys), he says.
As the e2campus website explains, e2campus founders "ran this new idea by a local community college (Anne Arundel Community College) and they agreed to pilot the program. In the Fall of 2004, AACC launched e2Campus and became the first campus in North America to use a mass notification system. Six years later, over 750 schools are using e2Campus in a mission to make their campuses safer through instant mass communications."
"It started off with text messaging, web widgets, all those different messaging systems," Bagdasarian tells me. "We've always taken the approach of 'multimodality.'"
("Multimodality" has become an industry buzzword, meaning the multiple modes of communicating campus alerts: texts, email, web, tweets, and so on. Clery expert Carter says he prefers the term "multi-channel.")
"Anytime there's a crime on campus, we take the multimodal approach," Bagdasarian says. "Facebook, digital signage, tweets. We can even interrupt local television. We can notify 100,000 students in seconds."
Even so, Jerry Sandusky's crimes against children at Penn State didn't hit the TV screen until a statewide grand jury issued a presentment in 2011, some 13 years after Sandusky first was investigated for pedophile crimes by Pennsylvania law enforcement and public welfare officials, in 1998.
In all those years, not a single tweet of warning would be heard. The failure here was not technological, but human, bureaucratic, and political.
Clery's vaunted technological "front end" was not the problem.
The failures involved Clery's "back end" feeder reporting system.
As a specialist in information systems failures would say: "GIGO."
Garbage In, Garbage Out.


Part of Clery's problem:
No clearly designated Clery Act reporting officer
Both Clery expert Daniel Carter and e2campus's Ara Bagdasarian point to one of the shortcomings of the act, as it now stands.
"The Clery Act doesn't mention a specific individual, somebody designated as a Clery Act reporting officer," Bagdasarian says.
In the phraseology of the late Steve Jobs, of Apple Computer, what was lacking in the vast college bureaucracies is a Directly Responsible Individual, or DRI.
No single, easily identifiable person is responsible for Clery Act obligations.



---

Call me irresponsible: The Clery Act doesn't designate a Directly Responsible Individual, so no one is responsible, or held accountable

---
For example, in Pennsylvania, an Open Records law specifically requires each state agency to designate an Open Records Officer. As a result, everyone knows who to go to for Open Records requests. The Open Records officer often serves as a kind of ombudsman to shepherd an Open Records request through an often-unfriendly bureaucracy.
As it now stands with Clery, university administrators can appoint whomever they chose to act as a Clery reporting officer. Often, the reporting officer is a member of the campus police department.
Problem is, as we see at Penn State, if the campus police are slow or resistant to investigating a crime or filing charges, the Clery reporting officer is compromised, hamstrung, and powerless.
A clearly defined and independent Clery Reporting Officer could not only act as an ombudsman, but could also serve as another avenue for students to take complaints, should law enforcement fail.
This is an obvious flaw in Clery.


Because there is no Directly Responsible Individual, or DRI, for Clery, a mish-mash of individuals with competing or conflicting responsibilities supposedly must do the job.
At Penn State, an over-worked campus police officer, already detailed to crime prevention activities, was also assigned to be an untrained Clery Act "compliance officer."
Making matters more confusing and nebulous, Clery further mandates that institutions collect crime data from far-flung "Campus Security Authorities," or CSAs, who may not even know their roles. The Freeh Report attempts to summarize this overly complicated and failed system of Clery CSAs at Penn State:

The Department of Education establishes the regulations for implementing the Clery Act and broadly defines the term "Campus Security Authority" to include the following entities or individuals:

1. A campus police department or a campus security department of an Institution.

2. Any individual or individuals who have responsibility for campus security but who do not constitute a campus police department or a
campus security department . . . such as an individual who is responsible for monitoring entrance into Institutional property.

3. Any individual or organization specified in an institution's statement of campus security policy as an individual or organization to which students and employees should report criminal offenses.

4. An official of an institution who has significant responsibility for student and campus activities including, but not limited to, student housing, student discipline, and campus judicial proceedings. [emphasis added].

The Department of Education has defined the last group of CSAs to include, among others, the following individuals:
• A dean of students who oversees student housing, a student center or student extracurricular activities.
• A director of athletics, a team coach or a faculty advisor to a student group. [emphasis added]
• A student resident advisor or assistant or a student who monitors access to dormitories.
• A coordinator of [fraternity and sorority affairs].
A physician in a campus health center, a counselor in a campus counseling center or a victim advocate or sexual assault response team in a campus rape crisis center if they are identified by [an Institution] as someone to whom crimes should be reported or if they have significant responsibility for student and campus activities. . . . (Freeh pps 112-113. Emphasis Freeh.)
As for the SNAFU all this brought at Penn State in the Sandusky case, the Freeh Report long-windedly attempts to make sense of the Rube Goldbergesque goings-on (or non-goings-ons) as follows:
The Clery Act was passed in 1990 and became effective in 1991. From approximately 1991 until 2007, University officials delegated Clery Act compliance to the University Police Department's Crime Prevention Officer ("CPO"). The CPO was not provided any formal training before taking over the position nor does he recall receiving any Clery Act training until 2007. The CPO was supervised by others in the University Police Department, including, ultimately, then Chief Thomas Harmon. Before 2007, the CPO was unaware that the Clery Act included the concept of CSAs or that the University had an obligation to collect crime data from student organizations, coaches, and others who have regular contact with students. To the CPO's knowledge, his supervisors were also unaware of these requirements. In fact, according to the CPO, he told one of his supervisors in 2007 that there was a need for additional personnel to assist with the Clery Act and "we could get hurt really bad here." The supervisor responded by saying "we really don't have the money."

In 2007, the Director of the University Police Department, Stephen Shelow, transferred the Clery Act compliance responsibility from the CPO to a departmental sergeant, because he believed that compliance with the Clery Act had not been handled well in the past. However, the sergeant in the University Police Department was only able to devote minimal time to Clery Act responsibilities.

Shelow also directed a number of University police department employees to attend a training program on the Clery Act. When the trainers discussed the requirements to identify and train CSAs, the attendees realized that the University did not have a sufficient process for those tasks. In fact, Shelow does not believe that anyone at the University understood, before that conference, that the Clery Act requires that information be gathered from outside the University Police Department.

Realizing that the University had serious deficiencies in the way that it gathered Clery Crime information, the University Police Department began to provide training and conduct outreach to the broader group of CSAs to gather crime data. They developed a crime report form to be completed by any CSA to whom a crime was reported and made the form available on the internet. The sergeant created PowerPoint materials and provided some training and information sessions for groups at University Park and some of the Commonwealth campuses. The University Police Department also held meetings with faculty and staff members involved in athletics, student activities and the fraternity and sorority system to increase awareness of the Clery Act and to explain the obligations of some of these individuals as CSAs.

Despite the efforts of the University Police Department, awareness and interest in Clery Act compliance remained lacking throughout the University. Since making the report form available electronically in 2007, the University Police Department has received only one completed form through 2011. No record reflects that any Commonwealth campus used the form until 2009. The training sessions and outreach efforts were conducted primarily for just one or two years, were "sporadic" and were not well attended.

The Director and the sergeant's intention to properly follow Clery Act regulations also were stymied by their own lack of time and resources. The sergeant, in addition to her Clery Act responsibilities, also was in charge of all criminal investigations and was only able to devote minimal time to Clery Act compliance. The Director suggested to the then Senior Vice President Finance and Business that the University appoint a "compliance coordinator" to assist with Clery Act implementation. The Director was told that while the need for the position existed, the University had other priorities that needed attention first.

In April 2009, the University's outside legal counsel provided information to the University about Clery Act compliance. The Director, the sergeant and others created a "draft" Clery Act policy that would have required written notification to all CSAs of their roles and responsibilities.

As of November 2011, the University's Clery Act policy was still in draft form and had not been implemented. (Freeh pps 115 - 116.)
Where's Ray?
More failures of Clery
So, what went wrong at Penn State? Or rather, did anything go right?
"What broke down at the time?" Clery expert Daniel Carter wonders aloud. "At the time the university police were the only people authorized to issue a (Clery) warning. There was a breakdown in the chain of command reporting."
Ara Bagdasarian, of e2campus, says that Clery "does not specify who exactly is required to report the crimes. Prior to e2campus, for example, someone would post on bulletin boards. It may not have been taken to the proper level."
He also points out, "There are no best practices that are common to every institution."
One common sense reform of Clery, Bagdasarian says, would be to create a standardized Clery Act reporting officer on every campus.
Bagdasarian says he also supports calls to establish a national Campus Safety Center, to help create uniform best practices for campus safety.
But the problems at Penn State seem to run deeper than a simple chain of command reporting problem, as Carter knows from his own personal experience.
In 2003, while assisting the U.S. Department of Education to develop a Clery Act Handbook, Carter notified Penn State that the school had failed to report in its Clery crime statistics a 2002 incident involving a star football player accused of committing rape in a dorm room. (Coach Joe Paterno had allowed the player to sit in on a post-season game despite the pending charges.)
It would turn out that Penn State for some reason failed to report 11 incidents of sexual assault in residence halls in 2002.


Problems run deeper than mere chain-of-command reporting glitches, into broader failures involving the administration, and its interface with state and local law enforcement and child welfare officials: Pennsylvania's politically connected old-boy network.



---

'As many in Pennsylvania know, the state Department of Public Welfare's Office of Children, Youth and Families for years have been accused of incompetence, inside dealing, and worse'

---
In 1998, after a boy's mother complained to campus police about Sandusky showering with her son, campus police, Centre County District Attorney Ray Gricar, and the Pennsylvania Department of Public Welfare ultimately dropped the criminal complaint. (Read the 1998 police report here.)
Politically connected Jerry Sandusky was thereafter allowed to continue to molest children, on and off campus.
Despite the involvement of state and local law enforcement officials in 1998, nothing of this incident was reported by PSU in its Clery crime statistics.
Further systemic old-boy network problems were evident in 2001, when Penn State officials Tim Curley, Gary Schultz, Coach Paterno and President Graham Spanier failed to pass along to DA Gricar or the Department of Public Welfare allegations of shower room rape made by Mike McQueary.


The question bears asking: would anything have happened in 2001 had Paterno, Shultz, Curley and Spanier passed along complaints to DA Gricar or the Welfare Department?
As many in Pennsylvania know, the state Department of Public Welfare's Office of Children, Youth and Families, and its key staff, for years have been accused of incompetence, inside dealing, and worse.
And DA Gricar, of course, vanished under mysterious circumstances in 2005.
Both of these offices dropped the ball in 1998, didn't follow through properly, or keep an eye on Sandusky.
A real question remains about whether anything would have come of complaints to these offices had they been made in 2001.
The old-boy network never fixes itself.
To the contrary, the old-boy network fixes legal cases so that the old-boy network can stay broken.
This is what happened -- up and down the network -- with fellow good ol' boy Jerry Sandusky.


Old boys at home:
Clery Act didn't envision systemic public corruption like that in Pennsylvania
The Clery Act contemplated institutions perhaps covering up crimes to protect their image, Carter reflects. But the act's sponsors never considered wholesale, systemic corruption.
"It envisioned a cover-up from releasing information to the public," Carter says. "It did not contemplate -- I'm quoting -- 'a criminal conspiracy.'"
Perhaps administration officials were more interested in protecting themselves, and not Sandusky, Carter conjectures.
(This, of course, is the raison d'être of any old-boy network.)
"The Clery Act does not contemplate that many members of an institution conspiring to break the law. That's not what the law contemplates," Carter goes on. "If they're going to break the law they're going to break the law, and (Clery) did not envision a mass campus conspiracy of campus and state officials to break the law."
So there's another rub with Clery.




---

Run for your lives: This university will self destruct in T-minus 60 minutes ...

---
Nonetheless, two cabinet-level federal agencies -- the U.S. Department of Justice, and the Department of Education --have announced they're investigating alleged Clery violations and other matters at Penn State.
Carter says he's confident "no stone will be left unturned" by the federal investigations.
"That's why you have federal oversight," he says. "One of the reasons you have an outside agency is so that if there is any outside corruption it can be investigated and arbitrated.
"Concerns about any type of corruption, at any level, is why we have oversight of the Clery Act," Carter says. "I think we need to let the process work and see what comes of it, and go from there. I don't know the full scope of their investigation, but I think they're probably looking at it from every angle.
"I believe that the federal investigation will be extensive and you will have accountability."


But it's not all that clear the federal agencies intend, or desire, to investigate the obvious systemic failures of the Sandusky case beyond Penn State's campus, and into the broader contributing universe of deep and recurring problems with Pennsylvania state and local law enforcement, the attorney general's office, and the governor's office.
On November 9, 2011, for example, the U.S. Department of Education announced that it would, "launch an investigation into whether Penn State University failed to comply with the Jeanne Clery Disclosure of Campus Security Policy and Campus Crime Statistics Act (the Clery Act) in regard to allegations of sex offenses on campus by a former school official. Former Penn State Defensive Coach Jerry Sandusky has been charged with sexually abusing several young boys over several years, including incidents on campus."

The Department of Education made it a point to suggest it would investigate whether Penn State violated both Clery's required annual reporting and timely warning requirements.
"Under the Clery Act, colleges and universities are required to disclose the number of criminal offenses on campus that are reported each year. In addition, in certain cases, the institution must issue a timely warning if a reported crime represents a threat to the campus community," the department press release read.
In a statement at the time, Education Secretary Ann Duncan said, "If these allegations of sexual abuse are true then this is a horrible tragedy for those young boys. If it turns out that some people at the school knew of the abuse and did nothing or covered it up, that makes it even worse. Schools and school officials have a legal and moral responsibility to protect children and young people from violence and abuse."
But Sec. Duncan's statement tellingly made no mention of state and local law enforcement officials who also "knew of the abuse and did nothing or covered it up."
Why is that?


The U.S. Department of Education (D.O.E.) certainly carries a big stick. It can impose fines up to $27,000 per violation, and even suspend a school from participation in federal student aid programs. The latter certainly would close Penn State.
Shortly after the D.O.E. announced it was investigating Penn State, media outlets crowed that the D.O.E. has imposed $1.4 million in fines against various schools for Clery violations since 2007.
That may be so, but the D.O.E. and Clery have never before encountered as broad and deep a systemic failure as at Penn State, in Pennsylvania.
Further indications of fundamental problems with the scope of the D.O.E. Clery investigation came in July 2012, when Department of Education Spokesman Justin Hamilton suggested to the Associated Press that his department would follow the incomplete investigative trail blazed by the Freeh Report. In other words, there would be no real investigation.
Freeh held no open hearings to take evidence, and did not interview many important witnesses, or anyone, for that matter, beyond the gates of Penn State.
Louis Freeh and his firm were recommended to investigate Penn State by Gov. Tom Corbett, shortly after the scandal broke. Corbett, himself embroiled in the scandal, was protected by Freeh from investigation.
The $6.5 million report prepared by Freeh didn't hold Corbett accountable for anything: for the years of delay to take Sandusky off the street while Corbett ran for governor, and other unaddressed problems in the AG's office.
Nor did Freeh hold Corbett accountable for the money rolling back and forth between candidate Corbett and the Second Mile.
Looks like the old-boy network, doesn't it?
Freeh drew an imaginary line around Penn State, protecting the outside state and local agencies and individuals playing parts in the failure.
Now the Department of Education seems to be promising more of the same.
"We are taking a close look at the Freeh Report as well as all relevant information to determine how it may aid our investigation," D.O.E. Spokesman Hamilton told the AP in July 2012.


Draw a line around it:
Protecting the old-boy network, not the young people at risk
For a scandal that's all about protecting a politically well-connected member of the old-boy network, you'd think investigators might not want to continue to protect the political old-boy network at the center of the scandal.
But reliance by the D.O.E. on the Freeh Report and its hermetically sealed findings will mean more bad news for Penn State, Pennsylvania, and Pennsylvania's young people.
It means we're likely never going to get to the bottom of the broader contributing factors leading to these injuries of these young people. It means we're never going to have accountability from our public officials, or any assurance that this won't happen again somewhere else, at another school.
It also means we can expect several bad and seemingly inexplicable developments as the D.O.E.'s Clery investigation proceeds.
Penn State University officials, and the university, can be expected to take the sole blame for broader systemic failures involving state and local public officials.
We can expect another sham non-investigation, predicated by haste and hysteria, and not fact, proper context and fairness, as we saw with cascading failures of Freeh, followed by the NCAA.


Penn State is likely to be dragged through the wringer for Clery violations that are both confusing to the public, and illogical.



---

'Penn State is likely to be dragged through the wringer for Clery violations that are both confusing to the public, and illogical'

---
Should the D.O.E. follow Freeh's lead, Penn State will find itself heavily fined and widely repudiated for not reporting the 1998 dropped investigation of Sandusky showering with the boy -- even though DA Gricar, and the state and county child welfare departments all refused to prosecute, and all went on to drop the ball and, well, disappear from view.
How can Penn State be held accountable for not reporting what in 1998 was judged not to be a crime?
Here is the rationale for this, as suggested by Freeh in his report. In its summary of findings, on page 16, Freeh's report cites:
"A failure by the Board to exercise its oversight functions in 1998 and 2001 by not having regular reporting procedures or committee structures in place to ensure disclosure to the Board of major risks to the University."
The report goes on to lay the groundwork for making failure to include the 1998 incident in its Clery crime statistics an apparent Clery violation at Penn State. Freeh writes, on page 51:
"the emails do not indicate that any officials attempted to determine whether Sandusky's conduct violated existing University policy or was reportable under The Jeanne Clery Disclosure of Campus Security Policy and Campus Crime Statistics Act, 20 U.S.C. § 1092(f) ('Clery Act')."
And, on page 101, we're reminded of PSU's responsibility for "reasonable inquiry":
"A. The Board's Failure of Oversight and Reasonable Inquiry in 1998 and 2001

"In 1998 and 2001, the Penn State Board failed to exercise its oversight functions. In that time, the Board did not have regular reporting procedures or committee structures in place to ensure disclosure to the Board of major risks. Because the Board did not demand regular reporting of these risks, Spanier and other senior University officials in this period did not bring up the Sandusky investigations. For example, the Board met in May 1998 and March 2001, but was not advised by Spanier regarding the Sandusky incidents. While Spanier failed to disclose these facts, the Board has a continuing obligation to require information about such an important matter. Similarly, in September 2001, the Board approved a favorable land deal to Sandusky's Second Mile, just six months after Sandusky was investigated for assaulting a young boy in the Lasch Building showers. The Board should have elicited such important information from senior University officials before the sale.

"Some Trustees reported that their meetings felt 'scripted' or that they were 'rubber stamping' major decisions already made by Spanier and a smaller group of Trustees. Sometimes Trustees learned of the President's decisions in public meetings where there were no questions or discussions."
And, on page 140, we read:
"University Police Department: Oversight, Policies and Procedures

"The University Police Department promptly responded to the 1998 complaint about Sandusky's conduct, but the sensitivity of the investigation and the need to report on its progress to a senior administrator could have compromised the extent of its inquiry."(Emphasis mine.)
Reinforcing all this, a Department of Education official, speaking to me on condition of anonymity, tells me, "If there was a crime committed on campus and it wasn't reported, that's a Clery violation. Assuming they're aware of it, yes, it has to be reported."
A technicality may yet spare Penn State from severe punishment for not reporting the 1998 "non criminal" shower encounter in its Clery crime statistics.
Major 1998 amendments to the Clery Act (including officially naming the act after Jeanne Clery) didn't take effect until October 1998.
Relevant changes to Clery may not have been in place "it's my understanding, until October 14, 1998," Carter points out. "But the Sandusky incident was reported to university police prior to October 14, 1998."
In other words, any supposed violation of Clery by Penn State for the supposed "non-crime" of an old man bathing with a boy in 1998 may be, excuse the term, grandfathered out.
In any event, in the real world, as we see at Penn State, it's this "sensitivity of the investigation," using Freeh's term, to allegations of sexual assault and sex crimes by a trusted insider that prevents students from ever receiving timely warnings about these dangers.
"Sexual harassment," by the way, is not considered a crime.
So don't expect Professor Wandering Hand to wind up on a Clery Act report.


Go fever:
Broader causes of complex systemic failure ignored
The Department of Education official, who spoke to me on condition of anonymity, expressed puzzlement when I suggested the roots of Clery violations at Penn State extended beyond the university.
There seems to be little appetite in the Department of Education to look beyond the dominos that fell at University Park.
Clery Act experts and regulators alike repeatedly threatened to not speak or to hang up on me when I suggested the obvious: the Clery Act's Sandusky problem goes beyond Penn State, into the realm of failed or badly corrupted state government, and a self-protecting old-boy network. (I'm left to wonder if the Department of Education is up to the job of enforcing Clery.)
Daniel Carter told me that he would not comment on issues involving governmental political corruption, or other issues beyond Penn State.
"My expertise is the campus safety component," Carter told me. "My job is to make sure that one part works. I'm like an engineer at NASA. I'm concentrating on this one part."
The NASA analogy seems particularly apt, I told Carter.
A group of Morton Thiokol engineers working with NASA feared that the Space Shuttle Challenger's O-rings might fail in cold weather, but was unable to stop the launch, or warn the astronauts.
(In space industry parlance, being in a rush or a heedless hurry to launch, or get a job done, is called "go fever.")
In the nuclear industry, in the late-1970s, engineers studying the Davis-Besse nuclear plant in Ohio discovered that, under certain circumstances, erroneous readings might cause control room operators to mistakenly shut down a nuclear plant's emergency core cooling system, causing catastrophe.
These same engineers were unable to issue a warning on this danger to those who needed them most: the control room operators at the Three Mile Island nuclear power plant in March 1979.


In these complex cases, as at Penn State, the ultimate question arises: why did the people who most needed the warnings not get them in time?
When the Challenger exploded, and Three Mile Island melted, the operators who pushed the launch button, or who shut off the emergency core cooling system, were not fired.
Instead, in both cases, the federal government conducted slow, painstaking, meticulous and sweeping investigations into the entire failed system to discover why those who were supposed to receive and issue timely warnings did not get them, or send them.
In the case of Jerry Sandusky and Penn State, in the Commonwealth of Pennsylvania, young people and students failed to receive any timely warnings at all.
Why was that?
The Department of Education should not now have "go fever" in a rushed attempt to punish Penn State and obscure the broader causes of failure of the Clery Act here.





---

'The Sandusky case represents what is called a cascading failure. It is a complex systemic failure, cutting across multiple disciplines, agencies, and institutions.'

---
Penn State, by any measure, is a complex system. It has thousands of employees and tens of thousands of students. It's one of the largest universities in the world.
Penn State, in fact, is a public, state-related research institution of considerable wherewithal.
Penn State, its alumni, and its officers enjoy extended and extensive social and financial interactions with Pennsylvania government officials, from the lowest district magistrate, all the way to the governor's office.
Penn State is not a backwoods Moose Lodge, or billiard parlor.
And Jerry Sandusky was not an isolated janitor at a Moose Lodge, or a billiard parlor.
Sandusky was a high-profile social predator, working at one of the world's leading state-related research universities.
For years Sandusky and those around him engaged in complex political interactions with many of the state's more prominent institutions and officials.
His charity's associates made outsized political contributions to the state attorney general. The charity in turn was awarded millions of dollars in state grant money by the beneficiary governor, and Penn State trustee.
Sandusky was once investigated, and cleared, of pedophilia by several state and county agencies entrusted with protecting our children.
Complicating matters, we see failures involving a district attorney who now has gone missing under very mysterious circumstances.
The Sandusky case represents a cascading failure. It is a complex systemic failure, cutting across multiple disciplines, agencies, and institutions.
That's why it's dishonest and wrong, factually and intellectually, to limit the scope of a Clery investigation by imagining what went wrong in the shower room only went wrong in the shower room, or just at Penn State.
It is at the intersection of government and academia where the greatest and most blatant Clery failures occurred.


'Fast accidents, slow investigations'
Students, and young people will always be at risk.
This August, two 19-year-old women, both soon to return to college from summer vacation, were mysteriously killed while sitting beside a train track in Ellicott City, Maryland.



---

'The sad truth is, a train wreck or a sink hole would be better investigated than this mess'

---
About midnight, on a calm and sultry evening, while the young women sat on a bridge overlooking town, the train freakishly derailed and spilled hundreds of tons of coal on them.
What went wrong to cause this tragedy? everyone wanted to know.
"These (train) accidents happen very quickly," Jim Southworth, lead investigator for the National Transportation and Safety Board, told the Washington Post. "They don't take much time at all, but the investigations take a great deal of time."
The great human failures of the unfolding tragedy at Penn State are just the opposite of the Ellicott City train wreck.
The Sandusky / Penn State scandal took a very long time to unfold -- more than a decade -- yet the investigations so far have been unduly quick, rushed, shoddy, limited in scope, and haphazard -- when they all conducted at all.
Why is that?
The sad truth is, a train wreck or a sinkhole would be better investigated than this mess.
In a rush to exonerate a weak and evolving Clery Act, its supporters and regulators should not succumb to "Go fever."
It's their responsibility, after all, to get to the bottom of this.
They should not be a part, and a continuation, of this broad and cascading system failure.


It's a measure of our social sickness that today we must warn our students that a mad man with a gun is at loose on a campus.
The Sandusky case demonstrates that sometimes the mad man may not be a deranged loner toting a gun.
The mad man may be a prominent, respected and well-connected campus icon, not hiding behind a gun, but shielded by a protective phalanx of complicit public and school officials.
If the Clery Act is to have validity in our mad time, Jerry Sandusky's many victims, like Jeanne Clery before them, deserve and expect a full explanation of why they were not warned of this political and social monster.
-- Bill Keisling
Posted September 24, 2012
Related:

Timeline: An insider's timeline of the Sandusky/PSU/Corbett scandal
'JoePA' takes the fall: A slow Tom Corbett throws Joe Paterno under the bus
The Magic Moment: Six decades of Pennsylvania governors, AGs, and the Pennsylvania Republican Party - Part 1 1950 to 1980
The Magic Moment Part 2: The Elected Years 1980 to 1995

PA Attorney General Tom Corbett was obstacle preventing 'VIP' sex ring investigation
Pennsylvania DA Tom Kearney asks FBI to investigate Corbett security contractor
Video: York lawyer Larry Heim boasts of courthouse pedophile ring
Jerry Sandusky Grand Jury report
Sandusky discovery motion filed 2-6-12 pdf >
Another drug prosecutor vanishes on a Pennsylvania car ride
Authorities say they're not serious about investigating the
disappearance of DA Ray Gricar
Pennsylvania DAs plan meeting to discuss Gricar, Luna disappearances
DA Ray Gricar's laptop is found in area previously extensively searched
Police: Gricar's hard drive found
Bubba Takes the Fall: Missing county sofa found in DA's basement
York County has long history of harming kids
Depostion of Det. Jeffrey Martz
Pennsylvania State Police launch investigation into PA Turnpike security provider
PA Turnpike security contractor seeks federal injunction to ban Luna book
Wantz dropped from PA House hearing on private investigators
External links:
Penn State source says no indication dismissal was related to steroids >
Video: Nike's Phil Knight pays tribute to Joe Paterno January 26, 2012 >
Sex bust nabs state security contractor -- ABC News
Want to know more? Read these Yardbird bestsellers about Pennsylvania attorneys general:
The Sins of Our Fathers: Moments before shooting himself to death at a news comference, Pennsylvania Treasurer R. Budd Dwyer implicated the PA attorney general in a deadly bribery conspiracy. Two young writers investigate, and find dark secrets about their hometown. Read more >
The Sins of Our Fathers now available in Kindle ebook edition!
Buy now Kindle >
Or buy The Sins of Our Fathers paperback edition now!
Revised Second Edition
with a new afterword
169 pages, perfect bound
Just $15
---
The Midnight Ride of Jonathan Luna: A year and a half before the disappearance of Pennsylvania DA Ray Gricar, Baltimore federal drug prosecutor Jonathan Luna mysteriously vanished from his office in downtown Baltimore, turning up dead in a stream in Lancaster, PA, stabbed dozens of times... Is it just us, or does it seem like lots of prosecutors are going missing in Pennsylvania? Read more >

or Order from Amazon.com here >>
Buy now Kindle >
Buy now iPad >
Also on the Nook >
---
We All Fall Down A Chronicle of an Impeachment Foretold: "In We All Fall Down, writer William Keisling tells the story of the impeachment of Pennsylvania state Supreme Court Justice Rolf Larsen, a once-popular Pittsburgh jurist. Larsen is prosecuted by corrupt Pennsylvania Attorney General Ernie Preate, shortly before AG Preate's own conviction on federal mail fraud and corruption charges. Keisling's account suggests that Larsen's impeachment was a blemish on democracy that should concern all Americans. Keisling describes the breakdown of nearly every democratic institution in the state that cradled American democracy."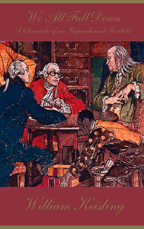 Cloth cover, Smyth bound, 336 pages.
$24.00
---
Copyright © 2012 yardbrd books
info@yardbird.com
blog comments powered by