A video biography of Jonathan Luna
Jonathan Luna's friend Dan Rivera narrates. 33 min 15 sec.
The Sins of Our Fathers now available in Kindle ebook edition!
Buy now Kindle >
Or buy The Sins of Our Fathers paperback edition now!
Revised Second Edition
with a new afterword
169 pages, perfect bound
Just $15
We All Fall Down A Chronicle of an Impeachment Foretold
Watch the mayhem ensue when a Pennsylvania supreme court justice accuses a fellow justice of fixing cases for his municipal bond underwriter brother ...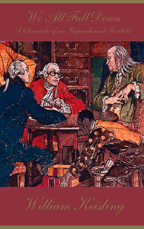 Cloth cover, Smyth bound, 336 pages.
$24.00
Read this entire 40,000-word essay from the comfort of your Kindle or e-reader and help support our work! Get Kindle ebook here >





Buy ebook on iPad >

Also on the Nook >