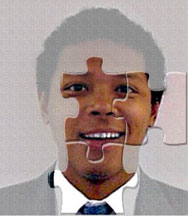 Dave's web log


Posted March 8, 2005 - Editor's note - In the days immediately following Jonathan Luna's death, a former classmate started a web log of news and remembrances. The blog contains remarkable insights into Luna's personality. Even family members of those he prosecuted have kind things to say about Luna. Such as the following:

Jonathan Luna had prosecuted my brother a few years back for drug trafficing. I wasnt too familiar with the justice system back then and my brother and I were the only surviving members of our family. Mr. Luna made sure I knew everything that was going on and he was the nicest person to me. Instead of being mad at everyone in that courtroom for making my brother serve time I was happy that they were helpng my brother get on the right track.
Mr Luna was really nice to me and kept me smiling even when he knew my brothers case would end up in jail time. On December 9 I was lying in a hospital bed after giving birth to my daughter Janette when I saw on the news about his murder. My brother called me crying asking me had I heard about his death. It was a very hard time for us. Even though some peoples cases went wrong while Mr. Luna was prosecuting them his personality left no room for you to hold a grudge. My brother went back on drugs and died of an overdose on January 21st. I think Jonathan Luna's death had an emotional effect on him (he didnt go back on drugs and die of an ovedose because of it-I dont think). Mr Luna was a great guy and he had a very remarkable personality that no one can forget.
RIP AUSA Jonathan Luna.

And this from another former classmate:

I knew Jon from law school. Just found out yesterday from another classmate of his death. I can tell all of you that my impressions of Jon from law school are nothing but the best. He was a friend who didn't judge. We are all lessened by his passing but those of us who knew him are better people because of it. Rest in peace Jon, I'll miss you.
December 04, 2003
jonathan luna

An assistant US district attorney Jonathan Luna was found murdered today. I lived in the same suite as him our first year at Carolina in Craige Hall, the graduate student dorm. He was a nice guy, very outgoing and charming. He was tall, thin, athletic. A good looking guy who was good with the ladies.

After our first semester in Craige he wanted to move out and get an apartment. He asked me if I wanted to room with him, but I decided to stay in the dorm another semester. Who knows why, since Craige sucked.

After he moved out, I ran into him a few times. His father was dying during his second year, I think, so he took a semester off. I helped him with some computer / word processing type things later on. After he graduated I never heard from him again. I googled him once and saw that he had clerked with a Federal judge and become a district attorney.

So long Jonathan.

Posted by dave at December 4, 2003 10:17 PM | TrackBack